Delimitation for elections, international politics, tense line of actual control and secret meets between New Delhi and Islamabad stand peeling off the stance behind the all J&K parties meeting with Modi-Shah in the capital.
In the first political engagement since the Bhartiya Janta Party-led Narendra Modi government scrapped the semi-autonomous status of Jammu and Kashmir two years ago, 14 top unionists from Jammu and Kashmir were invited for talks on June 24 by Prime Minister of India Narendra Modi, Home Minister Amit Shah and National Security Advisor Ajit Doval in New Delhi.
Hounded and denounced as "Gupkar Gang", most of these Kashmiri politicians were detained for months, including three former chief ministers, and booked under draconian laws like Public Safety Act.
After their release, the People's Alliance for Gupkar Declaration (PAGD) was formed as an amalgamation of different political parties who came under one umbrella for the first time to challenge the "unilateral, illegal and unconstitutional" changes of 5 August 2019.
However, in the three-hour long meeting at Indian premier's residence, the Kashmiri pro-India political leadership stated that the restoration of Article 370 lies as subjudice for courts and urged for statehood, elections, rehabilitation of Kashmiri Pandits, domicile rules and release of political detainees.
Back home, even the senior unionists are questioning the outcome of talks.
NC's Budgam face, Ruhullah Mehdi, told Free Press Kashmir that these politicians have achieved nothing from the all party meet.
"If there was any achievement, it was for New Delhi and the BJP government," Mehdi said, adding that the present dispensation wanted to get engaged to the people of Jammu and Kashmir through these local politicians to show that they have restored democracy.
"The geopolitical situation is changing in South Asia," the politician seen a dissident in NC ranks continued.
"The American troops are leaving Afghanistan and the new regime in the USA has taken principal stand on liberal democracy in Kashmir. American President Joe Biden also wants Modi to shed its extremist approach towards Kashmir. New Delhi, at the same time, can't afford to annoy US as it needs Washington on its side against Beijing."
And since Modi is expected to meet Biden, the recent development of all parties meet will provide a saviour for the Indian premier in America, Ruhullah said.
"The Government of India needed an excuse to show to the international society that the 5 August [2019] is a new normal now and they needed legitimacy and an element of acceptance from Kashmiri side which was provided by PAGD political leadership yesterday. I won't say they have succeeded to normalize the 5 August position but it can be seen as the first step."
These unionists wanted to be called and accepted by New Delhi as they've their roots there, the NC leader said.
"They were desperate to enter Delhi door because they were humiliated. To prove their relevance, they are ready to become elected representatives functioning under unelected officials.
"As they have accepted the current arrangement status quo, it will be a rubber stamp or toothless government which means Lieutenant Governor will be having veto powers over the assembly, cabinet and Chief Minister and the entire machinery of Jammu Kashmir will be run by unelected and selected people by New Delhi."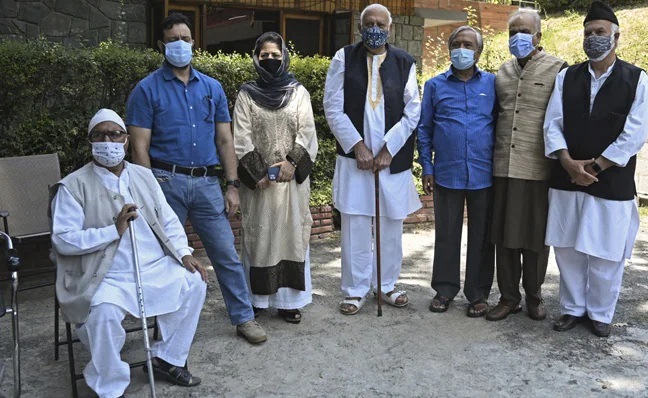 There's a global dimension to the dialogue as well.
In April this year, Reuters reported that top intelligence officers from India and Pakistan held secret talks in Dubai over the disputed Himalayan region of Kashmir. Developments like ceasefire along the Line of Control amid tensions at Line of Actual Control shortly took place.
Notably, a day before all parties meeting happened, NSA Ajit Doval flew from Tajikistan and reached Delhi to attend the meet.
"He was in Central Asia to meet the NSA of Pakistan," said Dr. Javaid Dar, a political analyst from Kashmir.
"All such developments signify that there is back-channel diplomacy going on and one of the outcomes of that diplomacy is the all-party meet."
For BJP government, the analyst said, the election is something they always look up for preponderance.
"They want to hold power positions in J&K," Dr. Javaid said. "Also some Jammu-based political parties have always accused Kashmiri hegemony over Jammu because the number of seats from Kashmir side was higher.
BJP knows it cannot form an elected government in J&K until the number of seats from the Jammu division is increased and delimitation will set plans for the same."
Earlier, to achieve this motive, the analyst added, the erstwhile state of J&K was bifurcated and the population was also divided.
"And since J&K delimitation is underway, they will conduct a political consensus and once the exercise is conducted, the province may see elections in 2022."
On the floor of Parliament, Amit Shah had promised Statehood, but what would be the nature of it, remains to be seen.
"Would we get the department of home affairs back?" Dr. Javaid asked. "And all our rights which were forcefully taken away from us?"
Political pundits affirm that Jammu and Kashmir has remained in a political lull since 2018 when BJP-PDP's "unholy alliance" disintegrated. And to restart the political process, the government of India is calling local faces for the engagement."But it was a surprise that PAGD didn't press on Article 370 as much it was expected," Noor Ahmad Baba, a political analyst said.
"They found a safer route in 'subjudice' but they should've expressed their strong resentment on the decision of Article 370 at least."
People in Kashmir don't trust the pro-India leadership much, he said, as such perspectives have a history because they have repeatedly failed to represent the sentiment of people. "And whatever the unionists do, it necessarily doesn't represent the voices and choices of Kashmiri people wholly."
New Delhi is installing local political faces to avoid bumps in the larger strategic goals that it wants to achieve in Jammu and Kashmir, the professor said.
"And our so-called politicians are helping them to build that narrative. For the upcoming election, Article 370 restoration, will be used as an important element for political campaigning, mark my words!"
Free Press Kashmir is now on Telegram. Click here to Join.
FPK Android App for 2G. Click here to Download.