Apart from the mother's misery and the lovers' longing, those summer messages in the mountains engaged all and sundry.
The long-awaited dispatch arrived after Zamrooda had spent sleepless nights wondering about the fate of her son held captive in a faraway jail. The word was brought by a man from her neighbourhood in Srinagar's Batamaloo area. He made it quick: "If you can, then visit your son. He's missing you."
That man had lately arrived home after meeting his detained son in Agra Jail. In a swooping crackdown in the valley, many Kashmiris were detained in midnight raids, booked under Public Safety Act and sent to different Indian jails.
Among them was Zamrooda's son, Asif, picked up for being "potential threat to peace".
"When I was told that my son is craving to see me, I lost my calm," the mother recalled. "But then managing travel fare was out of question for me."
With no option left, Zamrooda started doing the "unthinkable". She would visit village after village—begging to raise funds for meeting her son.
"I would talk to the masjid heads about my son's case, show them papers until I gathered Rs 25,000 to make my first visit."
Such visits became pressing after the communication crisis was created in the valley after August 5, 2019. It left many Kashmiri families wondering about their loved ones' fate.
But while Zamrooda was alerted by an uncanny messenger, a young cupid called Kaiser resorted to the old resilient method to overcome the enforced "blackhole situation".
The moment messages stopped coming from mountains, Kaiser lost touch with the love of his life. Putting up a fight with his pining heart, he decided to become a courier for the cause.
A fortnight after the abrogation of Article 370, he walked into a place where he would often meet his beloved. "I knew she would come there in search of me," Kaisar recalls the lovers' struggle in strife.
The place was around Nishat, and the road to it was full of hassles and hostilities. Kaisar had to come from Hyderpora area of Srinagar, while his beloved hailed from a defiant pocket of Soura.
After dropping a handwritten note for her at the corner of a Chinar tree, he returned after a week and became upset. His note was still untouched. Among other things, the note read: "Just tell me you are doing fine and all this suffering will ease out…"
He returned home after leaving behind another message. "Do come to meet me soon. I will be here from Friday to Sunday."
This lover's struggle in the communication crisis became one of the hallmarks of that summer. The sudden snapping of ties almost drove people to extreme ends. In order to secure some snoopy moments of message at DC office Srinagar, scores were breaking down almost daily for the sake of sending just a small text. In case of Kaiser, the wait lingered, and made him wither like a young flower.
Some ten messages stacked up by early September that year and yet, Mehvish was nowhere to be seen. But that didn't stop Kaiser from embarking on those visits.
"We Kashmiris had a hope and that kept us going during that terrible time," Kaiser, a jeweler by profession, says. "I even made rounds of her home in desperation, but there was no trace of her."
Kashmir, meanwhile, was taking its time to come out of the medieval times, with police stations becoming phone booths for those who wanted to reach out to their kin outside the valley.
Kaiser even felt that Mehvish might have gone outside Kashmir without dropping a word for him, or possibly married during the crisis. In the previous communication crises, many lovers of Kashmir had lost their love in the similar fashion.
To check her digital footprints, he even masqueraded as a media man and logged into his social media accounts from the media service centre at Hotel Sarovar. "We were living in the same city and yet couldn't come out of the enforced separation," Kaisar recalls. "And that was driving me crazy."
In the later part of September that year, the routine visit to the lover's point eventually made him jump with joy. In place of his untouched piled postcards, there was one short note: "I knew I could find you here. I'm coming again on Sunday, at 12. Be here."
Apart from the mother's misery and the lovers' longing, those summer messages in mountains engaged all and sundry.
Just before the clampdown, Hazik had started working on a new literary project in Srinagar. But as enterprises became shut-shops, he came out from his home one day with a message: "Hope we all are surviving this and meeting again to work on our dream project."
Hazik had pasted this message on the shut shutter of his workplace. Days later, he was happy to see a reply: "Yes, we will survive this. Make sure we meet here, this Monday."
Most of these messages sustained the internal communication and helped the valley to overcome the impact of the enforced crisis. Even the case of Free Press Kashmir in this regard is quite notable.
Some two weeks after the abrogation, a staffer walked into the office premises and was greeted by the ghostly silence, rather than the routine newsroom liveliness. He dragged his feet before deciding to drop a message: "Hello, I was here. Hope everyone is doing fine."
Such messages became the only mode of communication for the newsroom staff that summer. Every member would come, open office with their allotted keys, and paste a message on a wall. Those telling texts would detail the mood of the times as well the new norms in the valley.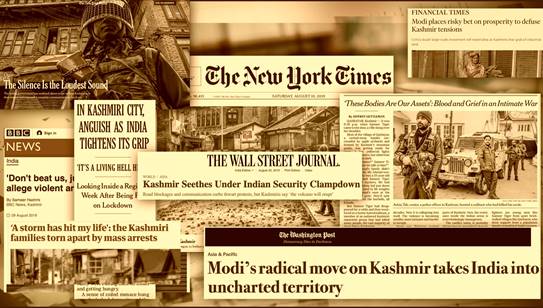 But for those away from Kashmir, even counting on this method was impossible.
When a son working abroad lost the touch with his ailing mother in Kashmir, he alerted his contacts in Delhi. The message from foreign soil was still taking time to arrive. It was then that a Kashmiri scribe came to the rescue of the situation.
He dialed one satellite number—earlier issued to police stations—and pleaded a police officer to drop a message at the address.
"This was tough," the scribe said, "but somehow we indirectly bridged the gap between the mother and the son. But the sad thing was, not everyone was lucky that summer."
And this is where one local channel—Gulistan—came to the rescue of Kashmiris unable to send messages to their loved ones in the valley. They would air their text or video messages which their kin back home keenly watched.
"August 5 created an emotional apocalypse in Kashmir," the scribe said. "For us media people, it was the toughest assignment on hand. We would capture the street scenes and send outside the valley in the form of flash-drives."
Later, two of the Kashmiri "messengers" would bring home Pulitzer by tackling the communication crisis with creative handling.
Free Press Kashmir is now on Telegram. Click here to Join.
FPK Android App for 2G. Click here to Download.