Kashmiris have been known for their strong community bonds, but some of them now abandon their old ones at newly opened old-age homes.
Coppersmith Bashir struggled throughout his life for family welfare. He never let his loved ones suffer despite the situational-crippled market and his limited means of income. They appreciated his selfless efforts until the octogenarian suffered a heart attack. His ailing state eventually sent him packing to an old-age home in Kashmir.
The brutal shift took place shortly after the demise of his spouse. Alone and agonised, Bashir became an aloof widower in a home he built with toil. The reality of abandonment hit him hard when his ailing state was shrugged. "I suddenly became some unwanted member in the family I raised with my sweat and blood," Bashir narrates his ordeal in an old-age home in Kashmir. "I was dumped here and discarded forever."
For generations, Kashmir had a tradition of living together which is now falling apart. While Bashir's tribe is growing, hearts and hearths are being thrown open for tourists in the name of hospitality. Most of these forsaken figures are battling health issues like hearing loss, cataracts, osteoarthritis, diabetes, etc. As their ailing state renders them redundant, they're tossed between sons and daughters before dropped at new homes.
This wilful abandonment violates The Jammu And Kashmir Maintenance And Welfare Of Parents And Senior Citizens Act, 2014. The Act makes it certain that whoever, having the care or protection of senior citizen, leaves such person in any place with the intention of wholly abandoning him/her, shall be punishable with imprisonment of either description for a term which may extend to three months or fine which may extend to five thousand rupees or with both.
But Bashir is clueless about this Act — and so are his tormentors he called sons. "The thought of not having my loved ones with me makes me very sad," Bashir continues the conversation filled with loss and longing. "But it's not just me going through this problem in a place called Kashmir now."
In the verdant lawns of Kashmir University, Dr. Farah Qayoom talks about this 'new social crisis' in the valley where the sense of togetherness and family system was always robust. But now, the sociology professor says, the normalised joint-to-nuclear family shift is breeding old-age homes. 
"In joint families," Dr. Farah says, "the elderly members would be taken care of, and they rarely ever felt neglected. However, the pulls and pressures of modern life, increased conflicts and neglect by children leave no room for the old now. And that's why these old-age homes are emerging on the scene now."
But while the sociologist holds the shifting sands in the valley responsible for the new order, one of the wardens of these shelters term them favourable for the abandoned lots. 
"Our homes have availability of doctors for weekly check-ups and body profiles, nursing staff and a physiotherapist," says Mustaffa Nazir Khan, an administrator of an old-age home. "Apart from this we're trying our best to engage elderly people in recreational and meaningful engagements."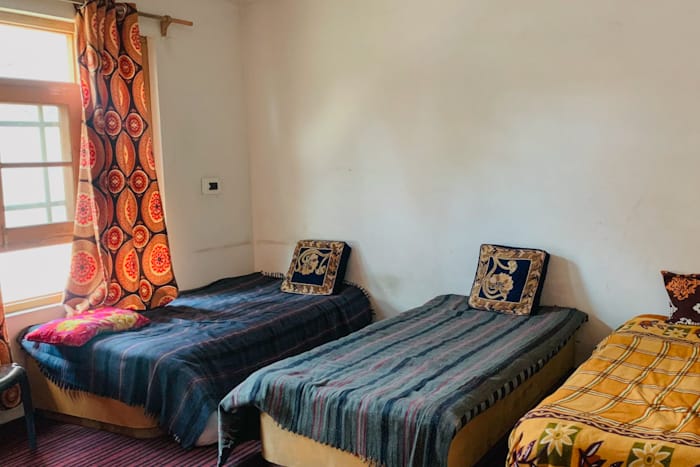 But those who land in these old-age homes recount some shocking human-bonds-gone-rogue stories. They call out domestic violence and family disputes for breaking the old tradition of togetherness. 
"I used to live with my wife and children," says Abdul Majid, an elderly man living in old-age home called HOPE. "My life was not worth living. I would get physically abused several times. I used to run away and cry because of the pain." 
Along with domestic violence, the overlooked healthcare is feared to contribute psychological problems like depression, anxiety and dementia in elderly people. "The pain most of the times was not physical but emotional," Majid continues. "My heart still aches because of that trauma. To escape that abusive life, I finally found a solace in this shelter." 
However, this distress-drive is still a low-intensity, inevitable social crisis in Kashmir, as per Mohammad Ashraf Akhoon. "It's not like we're admitting a crowd of people in some of our old-age homes," Akhoon, deputy director, social welfare department, said. "Most of these people just stay for the day and return to their family upon reconciliation."
Some four to five elderly citizens are reportedly registered in old-age homes while registrations from both men and women are being accepted. The problem might still be in its initial stage in Kashmir, but the official stance makes it alarming. 
The LG administration early this year announced its plan to establish old-age and day-care homes in every district of the valley. In 2019 itself, four-day care homes—two in Srinagar district (one in Chanapora and another in Eidgah), and the other two are in Bandipora and Kupwara districts—were established by the social welfare department. The one at Chanapora has at least 200 elderly individuals already registered. The department is now establishing two more old-age homes in Anantnag and Ganderbal districts. 
In the existing setup, some of the inmates are being sheltered through SOS calls, says social worker Sumaya recalling a distress call about a 67-year-old man namely Ghulam Mohammad Rath. 
"I got him placed in our old age home at Baghi Mehtab in a terrible state," Sumaya, a social worker cum superintendent of the old-age home, recalls. "But we've faced a lot of challenges and criticism from locals when they came to know about old-age homes in the beginning."
Amid the growing abuse cases, Sumaya says, senior citizens mostly visit the old-age home to talk about their ordeal. "But there was a time when we required rental homes for these distressed lots," she informs. "So we approached a Ganderbal resident and convinced him for that once. But next morning his father called and said that he might himself land in the same old-age home one day if he gives permission for it!"