The wailing of women resumes after the completion of Asr prayers inside the Khan house in HMT area of Srinagar. Men, women, and children continue to enter and exit the two-storied house, the sadness and anger over the killing of the 65-year-old civil contractor Bashir Ahmad Khan, visible on their faces.
Bashir's killing on the road in Sopore, on the eventful morning of July 1 has sparked anger and outrage across Kashmir and raised questions about the circumstances that led to his killing, and the spectacle that followed.
Bashir was captured by an 'unidentified' photographer, dead on the road, with his 3-year-old grandson sitting on top of his lifeless body.
Talking about Bashir's killing in north Kashmir town of Sopore, while he was on his way to Handwara, the family sticks to their claim that he was 'dragged out from his car by the armed forces and killed in cold blood'.
The family says the police and CRPF's version that he 'died in crossfire' and that it was the 'bullet fired by militants' that hit him is 'completely false'.
Bashir's wife, who has been a part of the police department rejects the official version, so do the brothers.
"He was shot from point-blank range," Suhail Ahmad Khan, the youngest son of the slain, says. According to Suhail, the wound on his father's body was not like the one that a bullet fired from a distance should cause. "His spinal cord looked damaged because the bullet had entered from his chest and left through his back, and one could easily tell from the nature of his wound the range from which he was shot," he says, breaking down.
Zahoor Ahmad Khan, who is the younger brother of the deceased echoes the same and maintains that if his brother had sensed any trouble he would have 'either sped away or drove in reverse to get out of the line of fire'. "Why would he come out of the car?" he questions.
"From the pictures spread on social media, one could see the armed forces' vehicle next to his car. Saying he was killed in the crossfire is untrue," Zahoor says.
"Papa's car has no damage, which is currently in police custody in Sopore, and anybody can go and see that for themselves," Suhail adds to his uncle's words.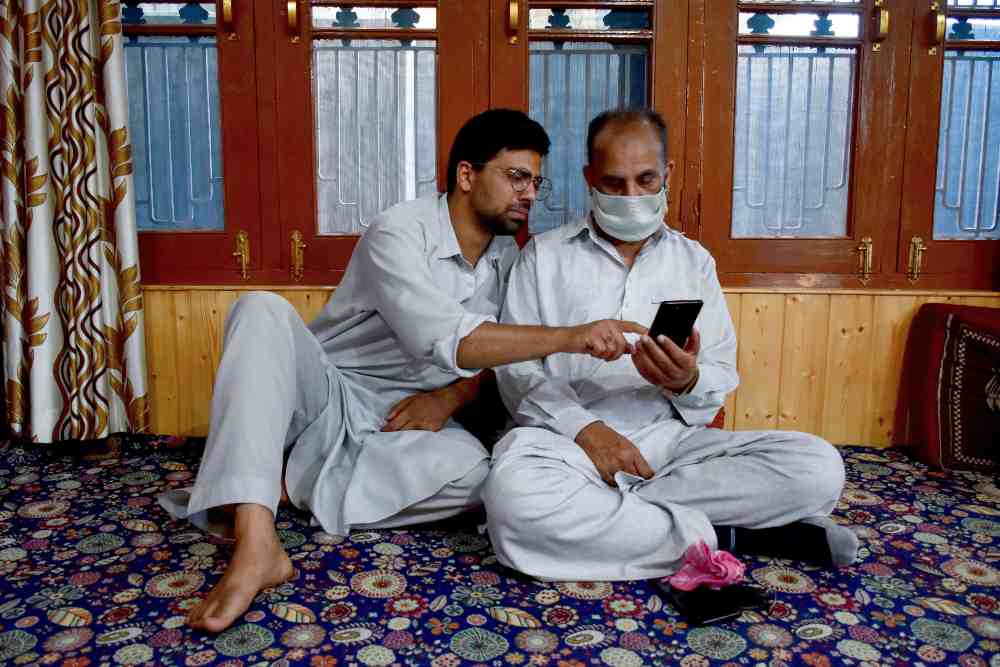 The family says that neither the police nor the hospital officials gave them any document or certificate detailing the cause or nature of his death.
"If a proper investigation is carried, we will get to know who killed him as the injury caused by a bullet fired from a close range is different to that of the one caused when a bullet is shot from a distance," says Zubair, a relative of the Khans.
"Besides, it will also reveal the type of bullet fired which will eventually tell who fired it," he adds.
The family has been devastated by the event that has taken away one family member and scarred the other impressionable one for a lifetime.
Bashir's 3-year-old grandson, after being photographed on top of his grandfather's dead body, soaked in his blood, was paraded for Public Relations.
With chocolates stuffed into his blood-soaked hands, he could be seen crying in the back of a police van. The family cannot come to terms with what happened but is determined to not let the case be drowned in loud official denials.
The loving father, and the last moments
When the cases of COVID-19 began to rise in Delhi, Bashir had asked his son Suhail to return home. Suhail is pursuing an MA in Islamic Studies from Delhi's Jamia Millia Islamia University.
"I didn't know that the one who built and decorated this house will leave us too soon," Suhail says. "He was just like a friend, and with the loss of my father I lost that friend too," he says.
Suhail says that his father was a humble man, who gave charity and helped the poor.
One of the things that Bashir had worked hard for, was to establish his family and give them a good life. Suhail, was engaged in October last year and was supposed to get married soon. But now, with his father not around, Suhail says they would most likely delay the marriage. "He cared a lot for me. he was such a loving father," Suhail says.
In his prime, Bashir's friends say, he would attract a lot of attention from people, owing to his 'handsome' looks. "People used to call him Jeetendra when he was young," says Tariq, who although is younger than Bashir, spent a good part of his life with him.
A day before he was killed, according to Suhail, Bashir had gone on an excursion to Tangmarg with his wife, Suhail, and his 3-year-old grandson.
"Before leaving for Handwara, he washed his car and left home at 06:30 in the morning so that he could get back to his work in Gulmarg. Our house help, who is from Handwara, told us over the phone that she couldn't come on her own due to lack of public transport, to which papa said that he would drive and come pick her up," Suhail explains.
The previous night Bashir had asked Suhail if he could accompany him to Handwara, but as fate would have it, instead the three-year-old child would go.
The killing in Sopore, and what the police says
According to Kashmir's Inspector General of Police (IGP) Vijay Kumar, the incident took place at around 07:30 on the morning of July 1, when 'two militants hiding in a mosque fired indiscriminately at CRPF troopers' who were de-boarding from their vehicle to be part of joint naka party with police in model town Sopore. The IGP said that the incident resulted in the death of one trooper and injuries to three others.
The IGP made these comments while addressing the press following the circulation of videos in which the family members of Bashir Ahmad had accused the armed forces of dragging him out of his car and shooting him at point blank range.
The IGP maintained that Bashir was hit by bullets during the attack while he was coming out of his car to protect his grandson.
CRPF's Special Director General Zulfiqar Hassan who on Thursday visited the spot where the 'militant attack' took place said that the angle at which Bashir was shot showed that the bullet came from the mosque.
At Bashir Ahmad's house in HMT, Jehangir, the father of the 3-year-old boy who the armed forces say was 'rescued' by them, referring to his father-in-law's killing, says, "this is the gift of the Indian democracy to an elderly Kashmiri."
While on Saturday, IGP Vijay Kumar along with other senior police officers visited Bashir's family and assured them an "impartial investigation" into the incident, the family maintains that if the investigation into the incident was not undertaken yet, why was the verdict pronounced and amplified.
Free Press Kashmir is now on Telegram. Click here to Join.