Srinagar: As reports of announcing restrictions through loudspeakers a night before August 15 came from multiple places in Kashmir, traffic remained off the roads, and people preferred to stay indoors.
Communication was restricted, Internet inaccessible in many parts of Kashmir, and restriction on movement could be seen as barricades were placed a day after militants attacked an armed forces party in Srinagar's outskirts, and managed to flee amid heightened security.
While there were restrictions on the ground, the scenario on twitter according to many BJP leaders, was that of 'crown of nationalism' as many from the party shared a different image.
BJP MP from Ladakh, Jamyang Namgyal shared an image that showed the Indian tricolour fluttering in Lal Chowk.
Namgyal also praised Narendra Modi for the feat, and thanked people for electing him to reclaim the symbol from "Jihadist forces and Dynast Politicians'.
What has changed since #5Aug2019?

Lal Chowk #Srinagar which had remained as symbol of #AntiIndia campaign by dynast politicians & #Jihadist forces, has now become Crown of Nationalism.#modihaitomumkinhai

Thanks my countrymen for electing @narendramodi @AmitShah #ModiSarkar pic.twitter.com/4g8doLRUdp

— Jamyang Tsering Namgyal (@JTNBJP) August 14, 2020
Kapil Misra from BJP also tweeted the same image.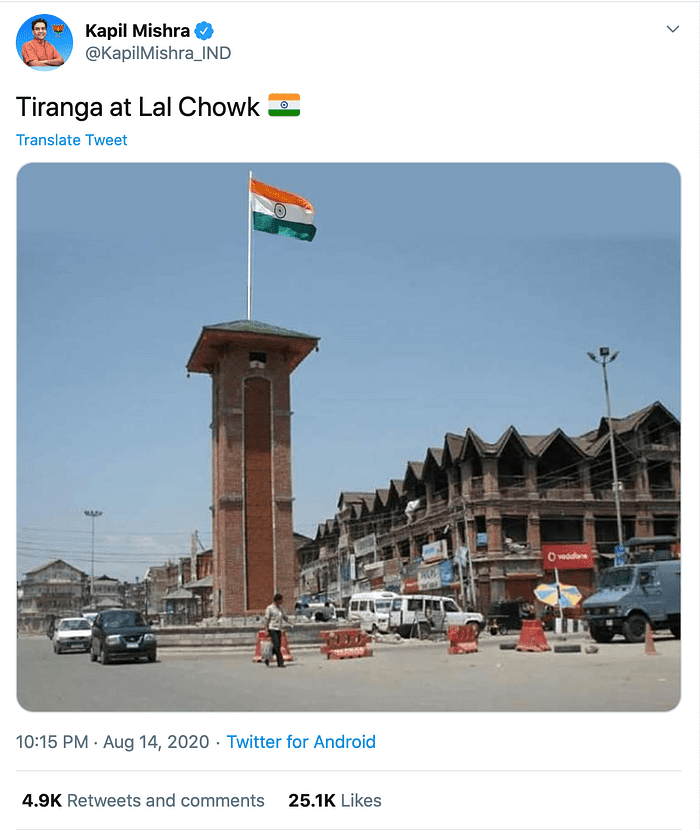 The image however is fake.
The original image was uploaded in August 2010 by freelance journalist Mubasshir Mushtaq in his story titled 'Paradise Lost?'
Anyone who has visited the Lal Chowk, would clearly point out that the building in the background, was changed many years ago.
On the ground, Narendra Modi's speech was telecast to near-empty streets in Lal Chowk.
Live telecast of Prime Minister Narendra Modi's Independence Day speech at deserted Lal Chowk, Srinagar, #Kashmir.

Video: Ahmer Khan. pic.twitter.com/L3fM0ukrFZ

— Ahmer Khan (@ahmermkhan) August 15, 2020
However, this is not the first time that propaganda around Kashmir has been pushed on twitter.
ALSO READ: #NayaKashmir: Fake profiles emerge on Twitter, promote 'development' in Kashmir that 'doesn't exist'
one year after the binning of Kashmir's semi-autonomous status, Kashmir's trade bodies have said that the promised development 'does not exist', on the contrary, businesses are facing losses.
The Kashmir Chamber of Commerce and Industries (KCCI) has said that Kashmir's economy has suffered a whopping Rs 40,000 crore losses mainly due to extension of lockdowns which Kashmir is facing since August 2019.
But as development, stressed upon by Modi-led regime, remains elusive, and employment rates remain low, seemingly paid twitter handles have mushroomed, that peddle a fake narrative of development.
These accounts have been vigorously tweeting the "developments" that have taken place in the valley in past one year with the hashtag #NayaKashmir.
The propaganda came to light when a twitter handle by the name of "Fact Check Kashmir" started a thread exposing these fake profiles that sprung out of the blue, ahead of August 5.
At the time of publishing of this article, the number of profiles enlisted in the thread stood at 34 of which one profile was impersonating a Sikh man while the rest of profiles had Muslim names.
Free Press Kashmir is now on Telegram. Click here to Join.