Extolled for getting Onassis AIR Emergency Fellowship at the moment, Suhail Naqshbandi swears to deliver his mastery through the sheet that is already replete with a quality of endurance to the trained and untrained set of eyes.
When children of his age, cocooned in privilege, were discovering Pink Floyd, he was trying to make sense of the pandemic of death and grey weather that continues to besiege his homeland till this date.
At 16 and impressionable, the screams of violence that resonated within the encircling mountains – muted beyond its peaks – pushed him closer to being the sharp-witted observer he is.
Thus, in Suhail Naqshbandi's formative years, watercolours became his saving grace and the Jamia Masjid his muse, as he grew up seeing his vale chained to a land where death was an occasion for celebration and songs of 'valour'.
Being the last out of five sons, he was brought up in a home where every second person was a serious artist. With a poet, calligrapher, and painter for a father and abstract artists as elder brothers, he took to art like a duck to water. It was a way of life and it was everywhere he looked, for every waking minute.
As we live in a world that wakes up to inspirational quotes, we have all heard the paraphrased Buddisht adage, 'we are our thoughts'.
Hence for a man whose creative streak has borne the brunt of four wars and has survived the strife so far, it was fascinating to hear what he thought he'd lived to be.
"Conflict did affect my psyche, growing up," Suhail said. "For a student in the 8th grade, the sudden pervasive sight of guns was beyond perplexing."
But Suhail would process the 'awful' in his art every time he was hassled by the strangers in camo.
Mid-sentence he quoted Faiz's 'arz-e-watan' and turned to pull out a stack of papers containing his unpublished work. In it held the drawing of a quintessentially dressed Kashmiri woman, flaunting her sinister look, and committing sins one may visualise in the darkness of their bloodiest dreams.
"This is Mother Kashmir," he said, holding up the picture of the woman of his nightmares.
As his first audience to 'Mother Kashmir', I enjoyed a brief moment of awe before Jibreel, his 8-year-old son, broke the appreciatory silence and asked his father what was the thing he had painted.
"Honey, no one's seen this yet, this is your first time too," Suhail said to pacify his little one. It was by the patent transparency that I could guess in the Naqshbandi house, the sweet boy inspired grand ideas in the mind of the grown artist.
Jibreel, bemused by his father's skill with colours, had always taken a solemn interest in his work and features.
"I preserve my son's drawings and study them from time to time," Suhail mentioned. It was a practice he had inculcated after the words of Pablo Picasso who had once confessed his inability to create as brilliantly as a child.
"They are the best artists, unaffected by any outwardly influence. They represent their feelings in the most pure and unadulterated form," he elucidated.
He further annotated the role of his wife and child in his artistic evolution. "Zeeshan [Suhail's wife] chides me every time I go without painting for long. An intense look and a question about the last time I picked my brush is enough to spur me into action. If you have a partner like that, what more can you ask for?" he stated delightedly.
Soon, Jibreel and he escorted me into his studio: a glowing orange against countless books and a staggering view. Under his shelf bearing an eclectic book collection, rested his treasure trunk of art materials, sketches, and paintings. What was peculiar about the trunk was the image enamelled on it.
As an admirer of Nature and a Kashmiri in love with Spring, Suhail had adorned the face of his rusty trunk with an image of a tree in full bloom and an anonymous couplet that made him chuckle every time he read it.
"Tangmarg ki lakdi, Gulmarg ki ghaas
Agar hai mohabbat to aaja mere paas"
He read it aloud smiling ear to ear. "My wife was amused when I told her of my plan to write this. Many visitors love it. Mirza Waheed, the writer, wants me to make one for him," he said.
From the back of a speeding auto rickshaw, Suhail had memorized the words within seconds by the virtue of vigilance learnt in his career of political cartooning. "Such street-humour gets me," he giggled.
Opening that magnificent trunk, out he pulled made-in-France charcoals (that he hides from his son), portraits of a beggar who frequently visits and his palette of colours.
"I have solid reasons behind choosing the colours in my paintings or cartoons," he informed. "But my 8-year-old is my biggest critic."
His son, I was told, often comes into his studio and freely expresses his joy or qualm over Suhail's colour choices. "Even my wife questions me. I might fight with her, but I take it in my stride. She isn't an artist but has the acumen to know what may sink or float," he added.
As we touched the topic of criticism, he began to talk about the censorship he's faced as a political cartoonist.
He had worked for a long time with a big name in the Kashmir news business but had put his papers down after facing relentless censorship.
Commenting on its blatant prevalence he said, "There was always a level of censorship as my editor wouldn't publish a cartoon if he found it to be too harsh but such behaviour increased when the 2019 general elections came closer. Things became stricter after that," he said.
He was always open to suggestions but would rather have his cartoons remain unpublished than altered for appeasement.
"I would submit my cartoon by the end of the day and on some occasions they'd ask me to change certain elements. But I was uncompromising. Later, the occasional event of keeping my cartoons unpublished became frequent and I couldn't undervalue my work beyond a point," he asserted.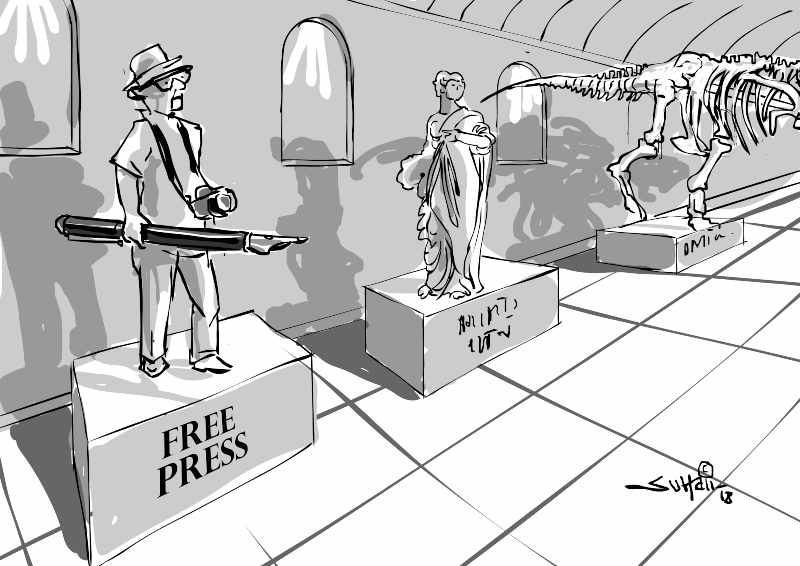 Regardless of whether his cartoon was getting printed in the daily, he would post it on social media – a platform that's been a real boon to his work.
Currently not associated with any name in the press, Suhail is grateful for his diversified set of skills that has kept him busy ever since he temporarily resigned from political cartooning.
A freelance illustrator, graphic designer, consulting creative director, guest lecturer at NIFT Srinagar, he has his fingers in many pies.
"I have had a chequered career path but all of them are interrelated and influence each other. In today's world, you need to be a jack of all trades and a master of few. These are the economic realities we need to come to terms with," he reasoned.
"Generally speaking, cartoonists, especially political cartoonists are going through a bad time," he lamented citing the examples of Turkey's imprisoned Musa Kart, New York Times' downsized art department, and Canada's Michael de Adder.
If Kashmir's Suhail used his art to fight the anomalies of the conflict, what does he use to overcome the undemocratic suppression of his art?
"Listening to and understanding music," he confessed and reluctantly admitted to being a bathroom singer as well.
"I listen to all sorts. My son enjoys listening to Guru Randhawa, and so do I. From Kishori Amonkar's Hindustani classical to Chris Stapleton's country music, there is almost every language and type in my playlist." To put it in a nutshell, his choice of music extends to any sound that he deems euphonic.
As we discussed more about his interests apart from his most dominant passion, he surprised me by telling me he's a compulsive tea-collector. It isn't necessary that he would drink his assortments but would merely stack them up to appreciate how lovely they looked in his kitchen's cabinet.
The soft-spoken Suhail is also enamoured by architecture, design, history, Urdu poetry and pretty river stones. Showing off a few recent additions to his stone collection, he told me how natural symmetry mesmerizes him. "We got these from our last trip to Sonmarg. My son picked some out," he said, picking up a few glazed pebbles. Some of them were painted on by his son.
The stones were placed on a windowsill, in a room singled out for his son's personal and artistic development. The room was filled with toys, random objects, and its walls were coloured with scribbles, confusing spirals, and crayon-drawings of cars, wheels, and every reflection of his mental imagery. "Having a painter for a parent has its advantages," I remarked.
Even if the cartoons are scathing, the mind that conceptualises them comforts you.
"Every visit to Jamia is humbling and no matter how many times I attempt to recreate its beauty on my canvas, I always feel something's missing," Suhail said.
A believer in the universality of pain, he says that 'pain' for an artist is no different or special than the pain of another.
"Everyone has their own reactions to it," he maintained. "If anything is to happen to an artist they will respond in the language known to them. It is a phenomenon as simple as that."
Since the Kashmir conflict and the word 'pain' are almost synonymous, the discussion about an artist's perception of the same, brought us back to addressing the elephant in the room.
Suhail detailed about a day when he was stopped on his way from tuitions and threatened for simply existing. "I'll hit you on your head so hard that your brain will bulge out of your nostrils," was whispered into a school-going Suhail's ears.
"He didn't touch me but the verbal abuse and his body language petrified me. The construction of the sentence and the violence it promised to deliver, scarred me as a boy. I stopped using that route for several months. Imagine how traumatizing it must have been for me to still be able to picture it with clarity," Suhail said in a heavy tone.
Recalling another incident of pointless abuse, he described how he was slapped by a uniform-wearer who felt insulted at Suhail's response when he was asked what he was doing there. "I told him I was on my way home and for some reason that agitated him. He picked his hand and gave me a hard one across my face. It was extremely insulting."
He also remembered how broken he felt when he entered his classroom one day to find his 'pandit' friends gone. As a young child, struggling to cope with the political pandemonium, this migration was unfathomable for him.
"All of this is still in my mind. They were a part of Kashmir and suddenly they were nowhere to be seen. I couldn't draw anymore. The violence had been internalised by us. As a defence mechanism, acts of oppression would become jokes and conversation starters," he stated with a short scoff.
He spoke at length about CASO (cordon and search operation) and how it had affected his family. The 'cats' as informers were called, were dreaded and despised. White jeeps, a harmless vehicle, had become the symbol of brute and ruthless force to the Kashmiri mind. He remembered almost choking on his food in Punjab when he spotted a white jeep on the road accompanied by the sound of bursting crackers. Even though he wasn't in his homeland, the image and sound were enough to fill him with fright and anxiety.
"I caught my breath after a few seconds. I realised that I'm not in Kashmir and had to remind myself that things are 'normal' here."
There are countless stories and ideas about 'Kashmiri agency' in Suhail's mind which he ardently believes need to be told and retold until the real conversation starts.
"People in India are fed their daily dose of propaganda and jingoism. It's not their fault, but still their fault for not trying to know better," he regretted.
Just as he mentioned propaganda, my eyes fell on the copy of Mein Kampf placed on the top rack of his book shelf.
Pointing at the ironical timing of my observation, he chortled over the fact that his wife was reading it while she was pregnant with Jibreel.
"I asked her not to read it," he joked, "telling her that our son would be born a dictator."
However, quickly transitioning back to the main conversations he said, "There is a lot of talent in Kashmir. There are so many people but we lack teachers and infrastructure. We need to remodel our education urgently."
He spoke about Malik Sajad – a senior in the field, but a junior to him, and remarked how his greatest contribution to 'Kashmiri agency' was his graphic novel, 'Munnu'.
"Mir Suhail Qadri is an excellent cartoonist. Anjum, based in Dubai, is brilliant and technically sound. Ghazal Qadri's creation of Kashmiri emojis is exceptional. And Kashmir is overflowing with talent amid a programme of military-led obfuscation of indigenous agency," he opined.
Kashmir, as per him, is brewing with enthusiastic and creative youngsters but there are hardly any spaces to nurture their natural talents. This has left a 'vacuum' in the valley, the way he sees it.
"When existing artists are being heckled into silence how and why will young aspirants try to join them? There is little pay in this field but we do it for the art. But, when there is no space for art, where will the artist go?" he questioned fiercely.
However, despite the bothersome obstacles, Suhail Naqsbandi sees a bright future for Kashmir's artistic scene.
"It's all part of a cycle. The period of violence will subdue as every empire falls. When we come out of this limbo, we will be inundated in an overwhelming sea of creative output in the form of films, theatre, music, and hopefully political cartooning survives to see that day."
Concluding the long interview on that note, he rose with his son and shut the lid of his trunk. As we walked out of his workshop, I turned to catch the last glimpse of the beauty that room was.
It is safe to say that in the years left to manifest, Suhail Naqshbandi will put his brush to rest in the same room where he had spent his adolescence studying for medical entrance examinations, unaware about the 'star' he was destined to be.
Free Press Kashmir is now on Telegram. Click here to Join.
FPK Android App for 2G. Click here to Download.