Grew up as a struggling farm boy, a Ladakhi doctor lost his mother and many of his tribe members to cervical cancer — compelling him to become contemporary Ladakh's cancer crusader.
The thick tyres of an off-road jeep come to a screeching halt, as Dr Nordan Otzer gets off at a desolate area in Hunder village in Nubra valley of Ladakh.
The old-world parish — where the shadows of the brown mountains and fleecy white clouds fall on the barren land — resembles an oasis lying squarely in the middle of a cold desert.
In the backdrop of this scenic serenity, the 39-year-old doctor clad in hiking trousers and thick-soled shoes walks up to a wobbly old-wooden bench under the open sky.
He arranges the pressure apparatus, stethoscope and a letter pad carefully on the worktable.
Soon the village women make a beeline to the spot and get themselves examined.
This is not an assigned duty for Dr. Nordan but his own way—a fortnightly checkup camp—of "giving back to his community".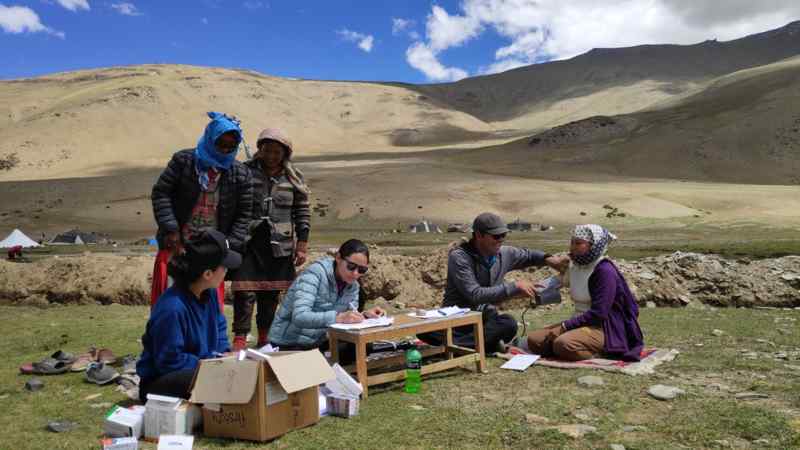 The medic has already catalyzed change by creating mass awareness around the recurring menace of cervical cancer in the region.
His untiring efforts have resulted in the screening of 10,000 women in Ladakh region so far. Around 1000 among them with precancerous lesions were treated.
But before his arrival as a healer, the villagers were battling an environmental offensive. The oldest NGO (Non-Government Organization) in the region named Ladakh Ecological Development and Environment (LEDE) had become defunct and was unable to address the ecological issues.
With no-one else to seek advice from, the NGO office-bearers turned to Dr. Nordan. He carefully studied the environmental problems and soon under his leadership, the LEDE earned a grant of million euros from European Union.
The aid was to make Ladakh a "livable, inclusive and resilient" Himalayan city. This development led to the revival of the fledgling NGO within a year.
But it was the silent killer—cervical cancer—which would soon engage the medic as a health activist in the region.
A native of Nubra Valley, Dr Nordan is the youngest among four siblings, born to a government teacher father and a farmer mother.
"There were always financial constraints as my father did not have a fat salary," he says, while treating a bunch of farm women in his open-air clinic.
"In order to fulfill our educational expenses, we worked in the fields with our mother."
Once done with his primary education from his hometown, he attended Sainik School Nagrota, Jammu, where he studied till Class 12. Later, he appeared in various entrance examinations and got selected for MBBS in CMC, Vellore.
After his graduation, Dr Nordan was posted to a remote hospital in Pondicherry. While serving healthcare in a faraway land, a call from home turned his world upside down.
"One day," he recalls with a sad face, "I was told that my mom was diagnosed with cervical cancer. It was a rattling revelation forcing me to rush back home."
In Nubra, the doctor son understood that his mother's complications had grown severe and chances of survival were bleak. He was right. She couldn't last long.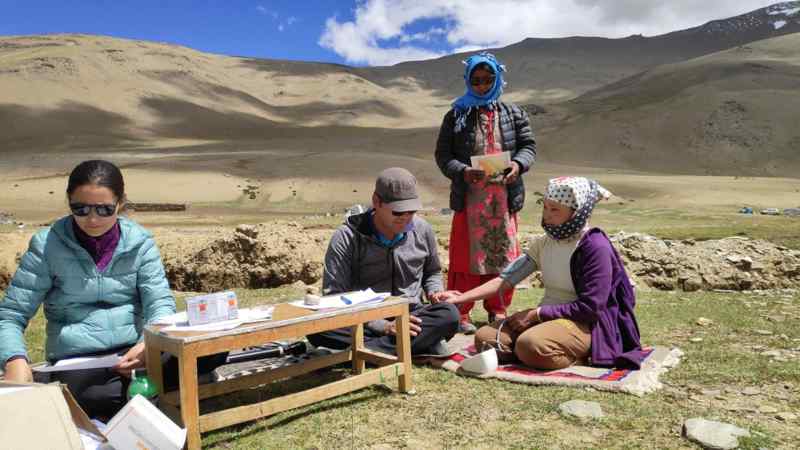 Once orphaned, Dr Nordan observed some glaring lacunae in the health infrastructure of the cold desert and taboos associated with women's health. He decided to confront those challenges.
While checking blood pressure of a farm woman, he says, "I was shell-shocked to see the large number of cervical cancer cases, majority of them being young women."
"This was a life changing moment for me," he adds. "I decided to stay back and help my own community."
In order to fuel his health campaign and create mass-awareness about women-related health issues in Ladakh, Dr Nordan started an NGO Himalayan Health Project in 2010.
As per his research under the project, one out of every ten women suffered from cervical cancer in the region.
And there were four possible reasons for it — poor nutrition, poor immunity, poor hygiene, and polyandry system in Buddhist community
"In the same year [in 2010]," he continues, "I met some roaming tourists from Singapore in Nubra. They happened to be a team of doctors. After learning about my endeavor, they developed interest in the project and decided to help me with the screening for cervical cancer."
In the first year of the screening camp led by Singaporean doctors, only 20 women turned up.
Soon Dr Nordan began visiting the villages for creating awareness.
"The impact was seen the following year as 2000 women turned up for a check-up in the second screening camp," says the doctor who has already visited more than 200 villages in and around Ladakh.
The annual screening by a team of 10-15 doctors involves a simple method.
"A 'screen-and-treat' approach for cervical prevention is based on a screening test result followed by treatment in the same visit," Dr Nordan says.
The women with advanced lesions are sent to Delhi for treatment with the help of fund-raising.
Apart from his healthcare activism, Dr Nordan attends to his family resort and café in Leh. He takes care of the food and lodgings when the doctors from Singapore arrive for screening.
"Whatever revenue is generated from the café goes into the Himalayan project itself," he says. "And that's how we sustain this health and wellness initiative."
The doctor has also been proactive in other significant projects like Healthy Ladakh and Anti-Tobacco movements, where he along with some local women association creates awareness on the issues of alcohol and tobacco among the Ladakhi community.
At the same time, the campaigner is upgrading his professional skills and qualification to tackle the emerging health issues in the region.
In 2015, Dr Nordan went to Kolkata for his higher studies and completed his Masters in ENT from the West Bengal University of Health & Sciences, where he was a gold-medalist.
He returned to Ladakh, this time, as a surgeon.
Back in his open-air clinic, the medic lets his jokes and humour to strike bonds with the simpletons of Nubra Valley.
In the godforsaken grassroots, he isn't a routine camp doctor with a stethoscope. His sway comes from his disarming smile, with which he's fighting the dreadful disease.
This unsung activism is currently shifting sands in Ladakh's healthcare system and making Dr Nordan cold desert's cancer crusader.
Free Press Kashmir is now on Telegram. Click here to Join.
FPK Android App for 2G. Click here to Download.