Such is the level of desperation that those falling in long lines to avail JK number plates say Kashmir is only witnessing a 'demonetization moment' all over again.
Sporting a signature Himachali cap, 56-year-old Mohammad Azad Pir elbows his way through the desperate crowd in Regional Transport Office (RTO), Srinagar.
A hotelier in Himachal Pradesh's Dharamshala, Pir had come home in his own vehicle for a spring retreat when his ride was cut short.
"I was driving in Pantha Chowk area of Srinagar when the traffic police seized my vehicle," Pir said. "They did not even check my documents and fined me for driving without documents."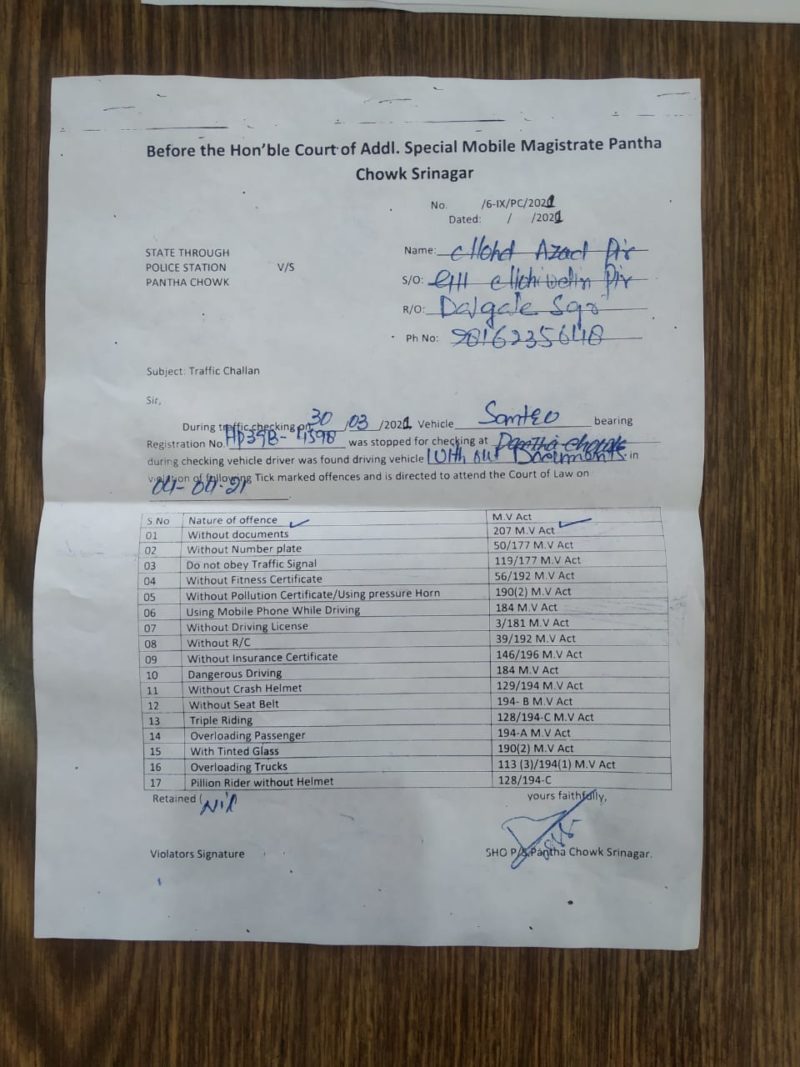 Pir's homecoming joy ended on a sour note after he landed in a crowd of grounded drivers of Kashmir.
Standing in the queue with him is a sexagenarian man with strained red eyes. He shows his registration card valid up to 2029 and Delhi's residence proof specified.
Yet, he couldn't stop the seizure.
"Where is the integration they claimed for which Article 370 was abrogated?" the fuming elder asked. "Do we need to purchase our vehicles from Lahore now?"
Despite having valid NOCs and all the related documents, hundreds of people having non-local registration numbers are being seized by police across Kashmir.
The sweeping road operation was launched after RTO Kashmir Akramullah Tak ordered for re-registration of non-local numbers, including a road tax of 9 per cent, on March 28.
Most of the seizures held in south Kashmir's Anantnag, Central Kashmir's Budgam and Srinagar.
The order come following the recent Lawaypora attack in which three CRPF (Central Reserve Police Force) men died and the vehicle used for the attack had a Haryana number plate.
Throngs of people are already moving hither and thither in the RTO office in Srinagar. A majority of them have similar questions that is on the summon form – in a column – nature of the offence. The traffic police mention that the driver was without documents, even if all the documents are on hand.
"Once you buy a vehicle outside your state or UT, you need to have an NOC (no objection certificate) which is valid for 6 months and during that time you need to register your vehicle," Tak told FPK.
But in Kashmir, he added, the problem is that a majority of people doesn't have their vehicles registered on owner's name, causing trouble to the enforcement agencies when accidents or crimes take place.
"If someone has purchased a vehicle in New Delhi and drives it in Kashmir for years, he needs to pay the road tax because the vehicle is pacing on the roads of Kashmir," Tak said.
"All the states across India impose road taxes and the money is utilized for maintaining roads. Earlier, J&K had meagre taxes but we have now increased it for the improvement of our roads."
However, Junaid Nazir, a transport expert who runs NGO 'Roads and safety' differs from the administration, saying other states do not ask for road taxes but Rs 600 for re-registration process, if a car owner is permanently moving to another place.
Moreover, if you register your car in any state, the validity of the road tax remains valid for 15 years. But since it's not written in the Motor Vehicles Act, Nazir said, the already paid road tax can be non-refundable.
"If administration is concerned about the rules, then why is it that the base-4 vehicles are getting re-registered in Kashmir when the same have been banned in New Delhi to combat pollution?" Nazir asked. "Don't we have an environmental problem in Kashmir?"
Senior officials in the RTO, Srinagar told FPK that the main dilemma lies with the locals who shuttle between the valley and outside after every six months for business related activities.
For such cases, the officials said, the administration has not issued any procedure yet.
"Only those vehicles that don't have proper documents are being seized," Javaid Koul, SSP Traffic Police, told FPK. "And we have every right to do so according to the Motor Vehicles Act."
However, Snober Azad, a lawyer in the district court complex, Srinagar, said that according to Section 47 of the Motor Vehicle Act, a motor vehicle registered in any State shall not require to be registered elsewhere in India.
"But theory and practicality are way more different," she said.
Amid all this, Kashmiris are once again finding themselves at the crossroads.
"As if the recent crippling years weren't enough to erode our economy that they had to now push us into this tricky situation reminding many of us of the demonetization phase of 2016," Showkat Sofi, a banker who has taken off from his office to secure the release of his seized car.
The situation is grimmer for those who frequent many Indian states in their own JK number plate cars.
Jimmy Rah, a timber merchant from the Anantnag area of south Kashmir, believes it's safer for Kashmiris to use non-local vehicles outside the valley.
"A few months ago, I parked my car in the Mayur Vihar area of Delhi," Rah said. "While returning, I saw my car scratched and 'Kashmiri kutay' was written on the bonnet. From then, I never purchased a car with a JK number plate."
In another case, four Kashmiri students of Chandigarh Group of colleges had decided to visit Kasauli in Himachal Pradesh for the weekend which is 57 kms from Chandigarh.
"Whenever the police see the JK number plate, they immediately stop vehicles for checking," one of the students said. "Whether you are in Himachal Pradesh, Punjab, Delhi or Mumbai – the conduct is same."
And now with this order, the students said, Kashmiris are neither free to move in their home, nor outside.
Free Press Kashmir is now on Telegram. Click here to Join.
FPK Android App for 2G. Click here to Download.