Even though export of walnut generates enormous revenue for Kashmir, working conditions of labourers in the field are pathetic, and filled with danger. Lack of safety gear, and concern, is taking away many unreported lives. 
As the lush green vegetation slowly imbibes the yellow shade announcing the onset of fall, harvest of the valley's first dry fruit, walnut, is on peak.
The production of lakhs of Kilograms of the prized fruit earns corers for the valley's exchequer, but the export commodity produced from almost every region of Kashmir does come at a cost—human lives.
Nestled high up on the branches of an old walnut tree, Showkat Ahmad Khatana tries to be cautious while climbing into the thick foliage, shifting his weight carefully.
Khatana, a 33 year old man from Dara, Harwan area of Srinagar finally breathes a sigh of relief as he climbs down and collapses on the ground after hours of carefully balancing himslef on these branches.
Khatana is worried for his life, after coming across regular news of people dying of fall from the walnut trees.
"For the past many days, there has been regular news about people dying. Before climbing the tree, I often think about the consequences. I know it can be life taking," says Khatana, referring to the recent deaths caused during the walnut harvest.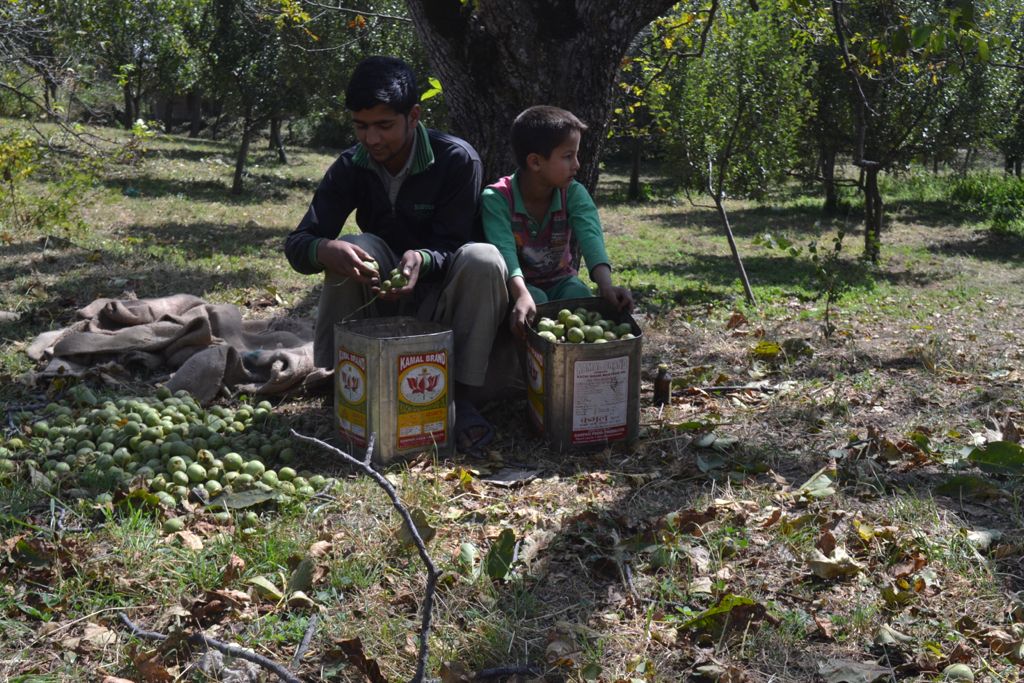 Every year, the valley witnesses many such accidents where scores of labourers lose their life and many more get injured, while thrashing the foliage of the trees to harvest the cash rich walnut crop. The frequency of such accidents and the subsequent causality has not caused the concern it should.
Lack of modern techniques, adherence to traditional practices of harvest, are some of the major causes for the increase in such incidents.
In the last ten days, six persons have lost their lives while three have received critical injuries after falling from walnut trees in Kashmir.
On September 9, Ghulam Mohammad Wani a resident of Chokura Pulwama lost his life after falling from the walnut tree.
On September 11, Nazir Ahmad Bhat a resident of Rajwar area of Kupwara died due to the fall.
On September 14, Ghulam Mohammad Khokher, a resident of Balkote Uri Baramulla and on 16 September Mohammad Akram Dar from Lam Tral Pulwama died after falling from walnut trees.
On September 17, Farooq Ahmad Mir resident of Andoo Nowgam Shangus Anantnag and on 18 September, Bashir Ahmad Bhat resident of Nigeenpora Tral Pulwama died after they fell while harvesting walnuts.
Similarly, three persons namely Mohammad Amin Khan of Wayil Wooder Ganderbal, Reyaz Ahmad Batana from Larnoo Anantnag and Mohammad Jabbar Malik, a resident of Zalangam Anantnag were injured after falling from walnut trees.
The graph of causalities and trauma caused by the fall from walnut trees sees a sudden spurt in the months of August and September, when the prized commodity is harvested from trees.
According to Dr Bilal Ahmad, an orthopedician from Srinagar, number of people having been injured after falling from walnut trees visiting his clinic increases in these months.
"Many among them suffer from head, brain, spinal, chest, abdominal and limb injuries," he says.
Sometimes the injuries from these incidents are so grievous that people are left paralyzed for a lifetime, says the Doctor.
He further adds that exhibtance of proper care by the people concerned can save many lives.
Official data suggests that around 2.66 lakh metric tonnes of walnuts are cultivated on 89,000 hectares across Jammu and Kashmir.
Walnuts constitute almost 98 per cent of the dry fruit that Kashmir produces each year.
Kashmiri walnut is an export commodity fetching around Rs 120 crore a year. It is exported in the forms of nuts as well as the kernel and provides employment to thousands of people directly or indirectly.
Experts believe that many lives can be saved provided modern techniques of walnut harvest are put in place. Use of headgear, non-slip boots, chest and abdomen protective equpiment, ropes and harnesses, can prove to be a game-changer.
"Moreover, farmers can be provided with nets, so that if there is a fall, a person will fall on the net, and casualties can be avoided".
In Kashmir, walnut is harvested manually. Traditionally, chanan woel or Walnut thrasher climbs up to the high stalked foliage of the trees. Equipped with a long stick made from willow, they beat the branches severely until most of the walnuts drop. The shelled fruit is then collected in gunny bags, washed, sun dried and sold in the market.
According to Professor Abdul Majeed in the Department of Fruit Science at Sheri Kashmir Institute of Science and Technology Shalimar, the farmers should opt for newly developed varieties of the walnut trees.
He says that the university has developed two new varieties, Sulaiman and Hamdan.
"Apart from occupying less space and having reduced gestation period of two to three years, these trees grow to the height of a well grown apple tree at maximum. Besides early returns, the risk to life with these new varieties is negligible," the Professor says.
But untill shorter variety of trees and better safety gear become a norm, these labourers bring down the fruit of labour at the risk of their lives.
Free Press Kashmir is now on Telegram. Click here to Join.
FPK Android App for 2G. Click here to Download.