With the arrival of autumn, life turns misty and melancholic in mountains but the spirit of the season lives on.
With Chinars wearing a crimson look and foliage of poplar trees turning yellow, autumn comes with slow but steady changes. Mornings and evenings become cold. The sun rises with a diffused look when blanket of haze falls over.
In the foggy valley, the fall has a different connotation. It's seen as a carrier of winter. Autumn provides a preparatory ground to tackle winter lasting for nearly 5 months.
Leaving his comfort zone at a time when everyone else wants to remain indoors, Shabir Ahmad sweeps the fallen brown leaves on the desolated streets of city center.
With every stroke of the broom, heaps of dust strike with the sunrays creating a golden fog around his knees amid chirping of birds and joggers.
Autumn is very cruel for Shabir as he works in the coldest hours of day. Sweeping off dry leaves and piling them together, he only knows about the demon behind the colors.
Far from Shabir's desolation, in the outskirts of cityscape, Shalimar was abuzz with people working in paddy fields and apple orchards.
Autumn is the season of harvest. Most of the fruits, vegetables, grains, are harvested during this period of time. For farmers, it's the time when they get paid for what they invested throughout spring and summer.
Threshing paddy in the golden fields under the warmth of half hidden sun, Rafiq Ahmad, a middle-aged man, wearing a mask and skullcap has a deep connection with this season.
This is the time when he takes leave from office and work in his fields. Acknowledging the cruelty of autumn, he knows the instability of weather and its effect on threshing. He tries to finish the job as early as possible.
Autumn is the time when Rafiq gets to meet his companions. Mushtaq and Shabir work with him from last "six-seven" years. The duo comes from Kokernag (village in south Kashmir) only to work in the fields of Rafiq. Over the years they have developed a deep emotional connect with each other.
The conversation between the trio makes the workload a little lighter. Also, a kettle of Nun Chai accompanies them to the field.
Back in Old City, Tasaduq Ahmad has decorated his shop with essential winter accessories. The smell coming from dried veggies like tomato, bottle gourd, turnip and brinjals, has a nostalgic effect. Kangris dominate almost every part of this shop.
Being happy with the season of fall, he's quite confident about increase in sales. His shop doesn't look like a main market one but the aesthetics and vintage look make this shop a perfect choice for old city market.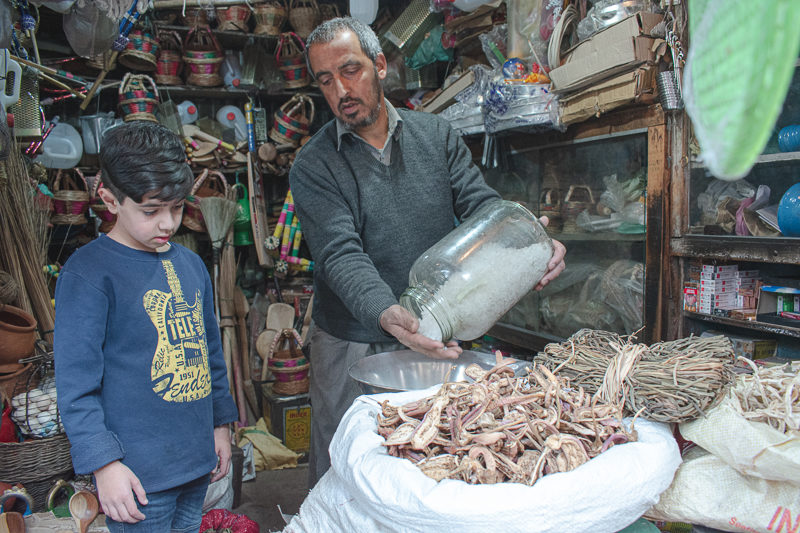 Known by the name of Tasse Maam, Tasaduq's shop always remains open. Instead of lowering the shutter, he puts a white cloth over the items outside his shop whenever he has to go somewhere.
Just a few hundred meters from his shop, Mohammad Syed started smoking jajeer after coming out from coal store. Resonating the same feelings like that of Tasaduq, the chill in air makes him happy. He knows more intense the weather gets, more people will come to his store for coal.
In other months, he usually supplies coal to hoteliers and barbeque vendors which has a slightly bigger size. However, with the onset of fall, he piles up small sized coal in front of store, just to attract more customers. Because of this, autumn remains his favorite season.
Away from cityscape, in South Kashmir, traditions are followed by everyone irrespective of age. Collecting leaves and burning them for making coal is an age-old practice. Contrary to what one sees in cities, villages tell a different story of autumn. In cities, where everything is ready to use and easily accessible, villagers like to do everything traditionally.
With a broom in hand and dressed up in Pheran, Uzma enjoys sweeping leaves. Under the walnut trees, the crumbling sound of dried leaves brings a smile on her face. Amidst the sound of river, leaves and cicada, she finds herself a part of this musical world.
After collection, it's time to burn the leaves to get a usable end product. Beyond the flames and smoke, Uzma embraces the whole process. She knows the importance of this activity as winter gets very harsh in these places.
Finding solace in the same way, Fahmeeda prepares for the survival. Cutting the extra branches of apple trees to lessen their weight, she makes coal out of those branches. With every winter, comes electricity outage and Kangri becomes the ultimate source of warmth.
For the womenfolk, these activities are cathartic. From enquiring about one's health to family issues, time passes between these layers.
Just few meters left to Fahmeeda, Roumi was collecting dried pulses. Selectively picking each bean and putting them in a traditional container called Paej, she doesn't seem happy.
Pointing towards her orchard, she paused for a moment. For her work has nothing to do with seasons, it's a part of their life and she is doing it without complaining.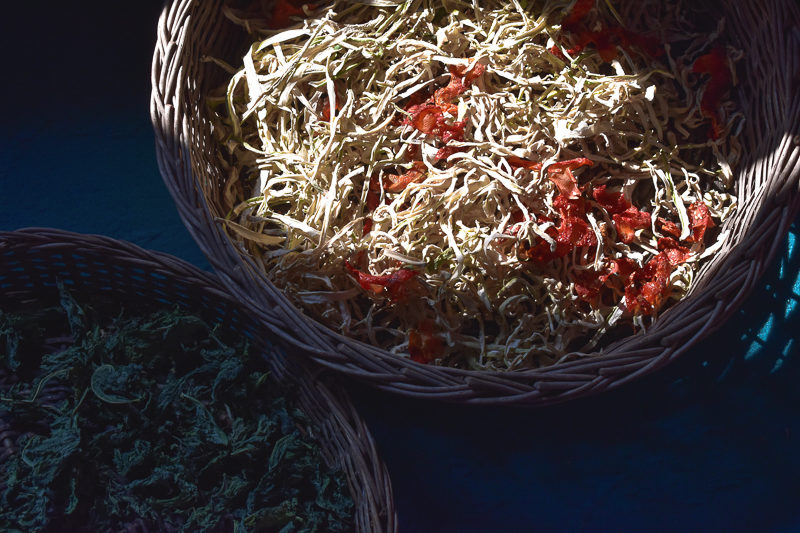 Kashmiris are dependant on dried vegetables during winters. Be it city or village, every household possesses a good collection of these. Not only in taste, but they look visually appealing as well.
Putting a show of her hard work, Haseena, never keeps the vegetables in open sunlight for drying. Spread over the floor of a room and partially exposing them to direct sunlight, she believes this practice keeps the veggies colorful and fresh for a longer time.
Preserving some of the colors, she doesn't want them to fade because of autumn.
Tied with thread, bunches of chilies are placed outside houses in open sunlight. Decorated like garlands, when mixed with the golden light of setting sun, restless eyes glitters with the vivid colors in the hazy evenings. These sights are common in most parts of the valley.
Away from the chaos, in the deepest parts of jungles, Wajid Lone never looks down. His eyes focused on tree trunks and the vast sky. Autumn gives him a chance to say hello to new birds.
Thousands of birds migrate every year mostly from Siberia and Japan to Kashmir. For Wajid this is the best time to get acquainted with the free souls.
All photos have been taken by Amir Bin Rafi. 
Free Press Kashmir is now on Telegram. Click here to Join.
FPK Android App for 2G. Click here to Download.