If the society changes its attitude of 'looking down' at the crafts that have come to Kashmir from Central Asia, Majeed assures the blessings for the unemployed youth.
The conversation that sounds more like an argument is pushing Majeed's hands to move fast through the pile of embroidered cloth in the corner.
The chirpy septuagenarian woman beyond getting on his nerves is praising his mastery saying that seekers for his craft and art prefer patience over quick trends and fancy designs.
Old school hand embroidery that seems fading from shelves still has buyers over the new mannequins brandishing designs and trends mostly sewed from machines with readymade designs.
The old woman resolves with Majeed the final date almost two months later for her woolen pheran to be embroidered with hand work.
For Majeed, a veteran embroidery artisan, the rare customers fill the gap, or his shop is mostly crowded by women preferring machine work with new designs available on internet and a fast delivery.
The artisan's association with the craft goes some three decades back when his late father and grandfather to their commitment passed the legacy on.
The words of the day haven't faded when faces almost have in the weak memory of Abdul Majeed Bhat.
The conversation between his grandfather Abdul Ghani Bhat and the famous 'woustikaar' (artisan) from the city stopped mid-way to introduce him only.
"This is my grandson, 'wousta'. Do you see the sharpness in his work as I do?" Majeed vividly remembers how his grandfather introduced his budding craftsmanship.
A small piece of cloth that young Majeed had embroidered for over a month was presented before Master Mohommad Siddique Bhat.
"His hands need some warmth," only after a pause the reply had come.
And the reply in itself came as an approval from the master for Majeed's professional training.

Young Majeed packed bags for his journey from a small hamlet in the district Budgam to what was then a haven for artisans — the fabled city of seven bridges.
The boy from Shamsabad was to pass the test of 'patience first' at a busy and bustling marketplace of Nawabazar.
"First week I only drew up the 'Jajjir' (hukka) for the master," he recalls with certain nostalgia. "Then I was assigned the role of the shop cleaner. And after over a month, I was asked to sit next to 'wousta' and imitate his hand movements holding a matchstick in my hand."
In the years he spent in the 'chathhaal', he learned how artisans are weaved. Majeed recalls them 'saints of patience' whose skillful hands and honest intent for art reflected in their work.
Master Siddique would often jab Majeed, "You've a sharp eye but not a sharp memory."
Years later, the master's 'memory' comment is proving no wrong, as Majeed's Hyderpora shop now mostly gets stormed by women whose designs and dates he often forgets.
Few months back, a woman who happens to be a doctor broke down in the marketplace after Master Majeed misplaced her mother-in-law's gift, a woolen pheran.
"We did console her but couldn't assure her if Majeed will find her lost pheran," said Ghulam Mohammad, a neighboring shopkeeper. "Such things keep on happening in his shop."
The shopkeeper remembers the parting words of the agitating doctor: "Had he not been so humble and polite, I would've turned his shop upside down!"
But those who know the craftsman vouch for his skill and 'sharafat' earning him huge customer base in these years. "Apart from misplacing the embroidered clothiers a few times," a regular customer adds, "I never have a reason to be annoyed with him."
Some twenty women everyday show up looking for him as if he has given them a slip for ages, a local baker adds. "And once he is caught up in his shop, we know they will yell out for a while only but they won't beat him."
Majeed, in his defense, lowers his gaze and replies, "Wanni kyah karo" (What can be done).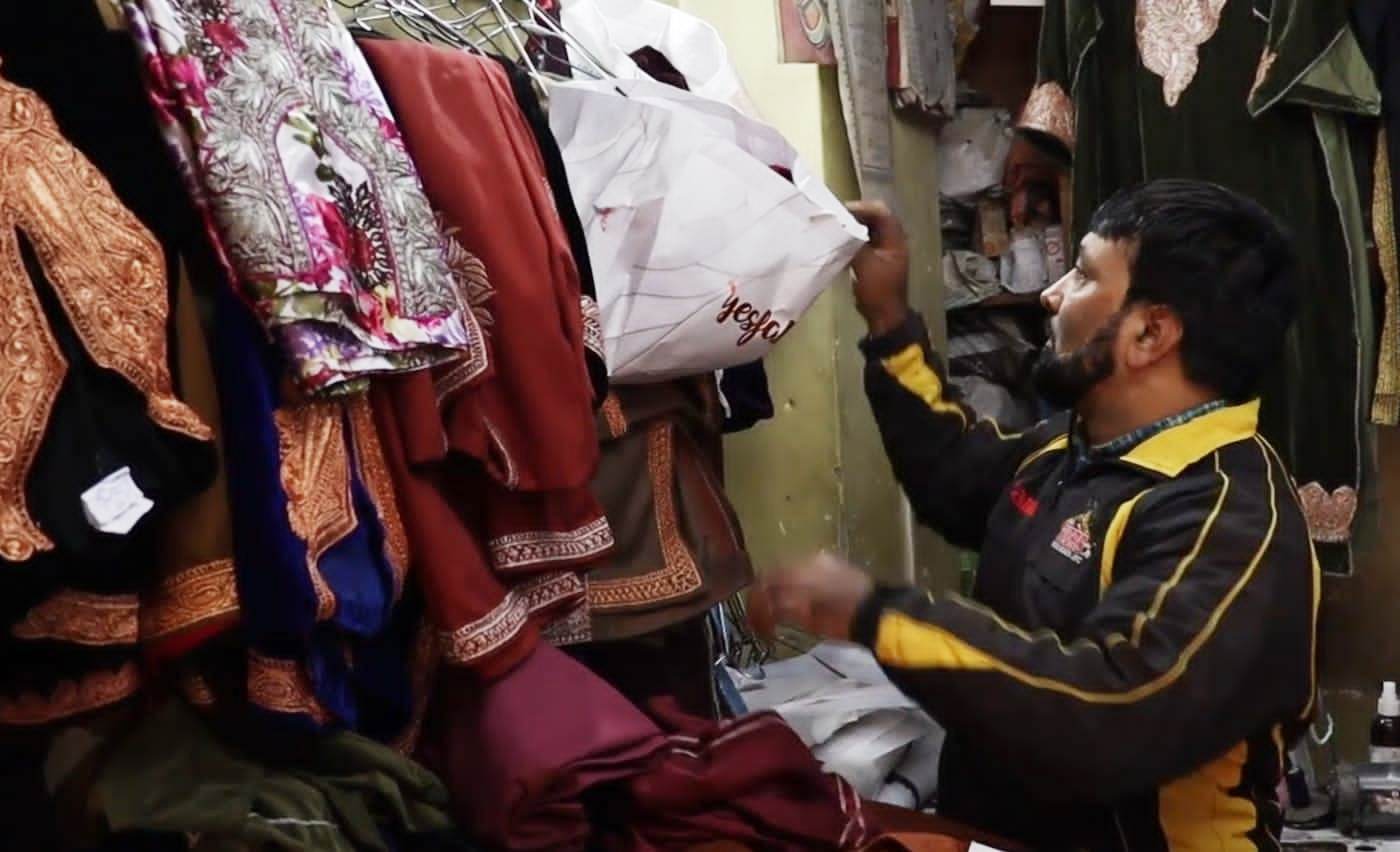 In 1992, Majeed opened his own shop in the uptown area of Srinagar after spending over five years under his master's supervision.
From a small shop Majeed now has over forty artisans associated with both handwork and machine work embroidery.
"Apart from the machine work artisans who work here at my shop, there are many handwork artisans who do their work from home," says Majeed. "Most of the handwork artisans are married women supporting their families."
If the society changes its attitude at looking down to the crafts that have come to Kashmir from Central Asia along with Islam, Majeed assures the blessings for the unemployed youth.
"There're many college going students who are funding their education from this work," he says. "Almost 80 per cent boys and girls in my village are associated with this work today and I feel lucky and blessed to be source of getting them the work."
Back at Majeed's shop a women duo have been waiting for over an hour and asking every new customer to look for an alternate artisan to get the embroidery done.
But the humbleness and honesty of the man still has the convincing power of allowing his customers some risk with their garments.