The fight against drug abuse is on a halt due to COVID, but it is continuing to thrive and is destroying many families. While the administration is battling multiple crises, the cases of substance abuse are constantly rising. 
Barely 5 kilometers from the main town of Kulgam lies Wokai, a village that has a population of barely 5,000 people. While the traditional occupation here has been agriculture of food crops, recent cultivation trend has changed to a deadly crop that has been taking lives.
In many families, women have been crushing the poppy plant, while men trade the deadly plant produce. The plant with beautiful flowers, but dangerous uses, Poppy (Papaver Somniferum) has been earning the locals money, but not without a price.
"I crush the dried poppy bulbs and then sell it to a man who comes here very often. I mix the seeds as well, so that it weighs more and I get more money," Shakeela (name changed) says.
Shakeela, who sold poppy straw last year as well, is happy that this year the rates are high. A stay at home mother, Shakeela says she spends the 'dirty money' to buy diapers for her child.
Locals allege that there are poppy crushers in almost every home and the powdered poppy straw is transported throughout South Kashmir, and outside JK.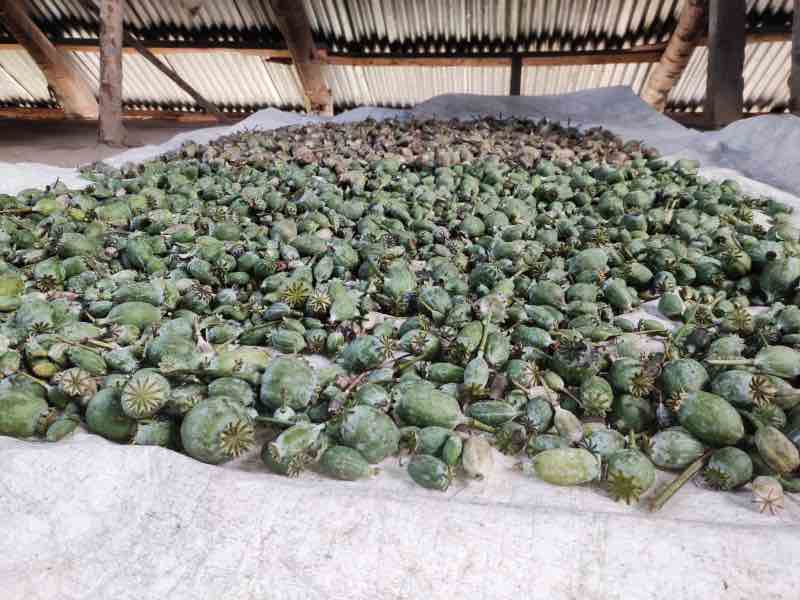 "We brought the issue in front of the concerned authorities many times, but they always failed us. We are mute spectators and watch these people building palaces and traveling in luxurious cars," says a native of Wokai village.
"Two years ago, the condition of Wokai was very different; everyone was struggling to make ends meet. But this year air-conditioned cars are parked on both sides of Galis and Kochas," a local says.
But while this deadly trade has been bringing in money, there are other issues that have come with it.
Very recently, Wokai witnessed two deaths in one family.
Banu (name changed), a 65-year-old widow curses herself while sitting in the kitchen of a house built by her dead son.
Her sharp face and golden hair cannot hide her pain. The woman questions God, as to why she did not die before witnessing the tragic deaths of her son and son-in-law, within one year.
"My husband was a noble soul. So he died before watching the shroud-draped bodies of our sons. I am a sinner indeed, that is why I am still alive to see my Gulabs (roses) wilting," says Banu.
Banu's son left behind a family; his 35-year-old widow and four young daughters. Though the family claims that their son was murdered by his partners, the police's version as well as the hospital reports contradict these claims.
Her son was addicted to drugs, which took his life on July 27 last year.
"He had also consumed alcohol that night and doctors tried to treat him. But he could not be saved," shares a local police officer, wishing anonymity.
While the grief of her son's death was still fresh, Banu lost her son-in-law, Adil (name changed). Just eleven months after her son's death, Adil passed away, leaving behind a family of four.
On May 25, the first of Ramzan, 10-year-old Aqsa, had knocked at the main door of her one-storey house. The door was locked. She kept knocking, but Adil, her father, who was inside, did not answer.
Aqsa went to a neighboring house and asked them for help. The neighbours helped to break the window and Aqsa slipped through, to open the door that was latched from inside.
The child entered the room and saw her father sitting with his head bowed, not moving. His face had turned blue, and he was bleeding from his nose and mouth. He had been dead for some time.
"He was taking medicine for high blood pressure and had heart problems too. Maybe that is how he died," shares Adil's widow, adding that he was under huge debt.
Locals say Adil was a substance user. When he died, he was on meditation and was on a de-addiction course of six months.
"He frequently used to take drugs. We took him to a doctor and they recommended a six-month-course. Unfortunately, it was too late. He died before the course was complete," says a relative of Adil.
Adil's neighbours, who found out about his addiction and had informed the family, say that he had taken loans worth 40 lacks from different banks. Then, to clear his loans, he went into drug peddling and cleared his loan.
"During this time, he also sold his land," says a neighbor of Adil.
But this is not only Adil's story. Ahmed's family has a similar story to tell.
From Gandwano area of district Kulgam in South Kashmir, Ahmad (name changed) was addicted to brown sugar since 2017 and was aided by his brother-in-law from Braziloo village of the same district.
A young married man, Ahmed had started taking Chitta provided to him free-of-cost by his brother-in-law, who was in the trafficking business. Later, when Ahmad was addicted, his search for drugs led him to Wokai.
"I heard about the selling of drugs in the village of Wokai. I used to buy one gram Chitta for Rs 1,500, which I used to rub on a plain paper then heat up and inhale," shares Ahmed.
As the demand has gone up, the rates have now reached Rs 3,000 per gram.
Sharing how his life turned upside down, Ahmad says that at the beginning he was not aware of its ill effects. Gradually he developed an addiction and exhausted all the savings that he had made from driving a tempo.
Ahmad's younger brother too was a serious substance abuser, a practice that led to his death.
After the death of his brother, Ahmed tried to give up the deadly practice but was not successful. The addiction and lack of money forced him to steal.
The police tracked him, and he landed up in jail, where he did not have access to drugs.
"When the police came to know about my drug addiction they kept me in isolation and gradually I developed tolerance. Now I am alright but sometimes I feel body-ache and start shivering," shares Ahmed, holding his two-year-old daughter in his lap.
The police have launched a massive drug de-addiction program and have arrested dozens of smugglers and seized endless supply of narcotics, and other drugs.
Kulgam police, under Narcotic Drugs and Psychotropic Substance (NDPS) Act, 1985, has arrested dozens of drug smugglers, including women, and seized more than 700 kilograms of poppy straw only in first five months of 2020.
The seized substances also include brown sugar, Charas, Spasmo Proxyvon tablets and liquor bottles.
While the police have launched a war against drugs and started rehabilitation centers, the locals say that the administration cannot shy away from taking the blame.
Local villagers and District Child Protection Unit (DCPU) Kulgam blame the regional police for the rise in drug trafficking in the area.
Legal Officer of DCPU Kulgam says that in July last year, their unit had received complaints from the heads of villages in Wokai and surrounding areas, that the drug trade was being done openly.
"We took the matter to the concerned police but they treated the case as a routine case," the officer says, adding that police is being unsupportive in wiping out the drug menace in district Kulgam.
The officer says that even though Kulgam has a dedicated Drug Deaddiction Center (DDC), it is defunct since the last few years.
"We wrote to the authorities repeatedly. That would have helped us to counsel the drug addicts on time. But the DDC is under CRPF and is not serving its real purpose," said a local from Kulgam town.
The COVID pandemic has made things much worse, and the issue of mistrust between the locals and police has made the fight against drug abuse more difficult. As locals desist from reporting cases, culprits enjoy a free hand in the illegal business.
Police officials in Kulgam say that they are trying their best, but accept that more needs to be done.
A senior police official from Kulgam says that whenever they get any information regarding drug trafficking in the area they take swift action. But the nexus of drug dealers often make it difficult for the authorities. By the time the police reach the spot, there is nothing to recover.
"Their luck often saves them because we rarely recover anything on spot. When we do get evidence the police deals with it very strictly and the violators of the law are death with, under the NDPS Act," says the officer.
According to a study conducted by United National Drug Control Programme (UNDCP), there are over 70,000 drug addicts in the Kashmir division only, including 4,000 women.
The study also revealed that a major portion of drugs is smuggled into Jammu and Kashmir from across the Line of Control (LOC) and the international border.
But the two drugs highly consumed by the youth in Kashmir are Heroin, which is an extract of poppy, locally known as Khashkhash, and Cannabis or Marijuana known as Charas. Both of these are locally cultivated.
"Heroin and cannabis are the most common in south Kashmir as the parent product of these two drugs is locally grown. Opioids, alcohol, and substance abuse are also on the rise," says Dr. Shiekh Shoib, Consultant Neuropsychiatrist at Jawahar Lal Nehru Memorial (JLNM) hospital Srinagar, who regularly sees patients suffering from the effects of drugs.
There are two working Drug De-addiction Centers (DDCs) in Srinagar but both of them have been closed for now, because of the coronavirus pandemic. Before COVID-19 the number of patients received by the Out Patient Department (OPD) of DDC SMHS hospital was 50 to 60 per day.
Dr. Chahat Jamwal, Psychiatrist Sri Maharaja Hari Singh (SMHS) Hospital, Srinagar, says that many patients under substance abuse are from the age group of 18 to 27. A large section of these abuse heroin, an illegal and highly addictive drug obtained from certain varieties of Poppy.
According to the doctor, Cannabis is used by patients from ages 27 to 35, while Cough Syrups used as an anti-anxiety drug is most common for patients between 30 and 40.
"Earlier we used to receive patients who were addicted to inhalation now we also see Injection Drug Users (IDUs) which is concerning. There is a shared needle use, and many other diseases are also rising because of this," says Doctor Jamwal.
Addicts have shared a variety of reasons for turning to drugs, from unemployment, to issues relating to conflict and the mental trauma it brings. But as police in the conflict hit region battle another war, the number of people turning to drugs has been constantly increasing. With no end in sight, the issue has turned into a crises that has to be dealt with, not just at the administrative level but at a societal level too.
Sherfun Nisa is a Journalist based in Kulgam, Kashmir. Her work has been published in the leading publications of the Valley. 
Free Press Kashmir is now on Telegram. Click here to Join.