Srinagar: On August 25, late-night, incessant phone calls informed Nadiya Rashid 24, that Ganderbal district authorities have allowed political workers to "trespass into their privacy" by allowing a dozen men to occupy their rooms at girls' hostel of Central University of Kashmir.
After a restless night, as soon as the sun rose, Nadiya, who describes herself as a spokesperson for the Federation of Students Committee, began calling officials at the university in order to enquire about the situation and circumstances.
However, she said, neither was she responded to positively, by any of the concerned, nor she could understand the reasons behind it.
According to students,who spoke to Free Press Kashmir, a number of Bhartiya Janta Party (BJP) members including Panchayat representatives and other low-rung political workers have been put inside the girls' hostel of the university.
The students said that without even informing them or issuing any notice, authorities have "brazenly seized" their rooms and belongings.
In March this year, when coronavirus made its appearance in Kashmir and the first coronavirus victim was witnessed in Srinagar, the government had announced a strict lockdown in the valley.
Like other students across Kashmir, the students of CUK also headed to their respective homes.
"We thought that lockdown is being implemented on a temporary basis and why shouldn't we take the entire luggage home," said a student worrying about her belongings now.
"However, little did we know that administration will allow some political workers to occupy our space and take possession of the property," the student added, 'repenting the decision' of getting admitting to the varsity.
Not only students, but a number of social media handlers have also shown their outrage when the photographs showing clothes taken out from the bags and spread all over the rooms of the said students, went viral.
https://twitter.com/aymanmattoo_/status/1298186220921450496?s=20
"So the CUK girls hostel Ganderbal has been occupied by BJP workers without any prior notice to students. Our belongings have been thrown out of our rooms this way. Who should be held accountable for this? What on earth was University administration thinking?, (sic), the user wrote.
Retweeting the same, former Jammu and Kashmir Peoples Democratic Party (JKPDP) youth president, Wahid-ur-Rehman Parra, said that pictures clearly speak of how BJP considers institutions as their own property.
What can be more louder than these pictures that clearly speak of how the ruling party considers institutions as their own property & the way admin is facilitating these deplorable act us beyond shocking.
University belongs to students not to parties @EduMinOfIndia @ugc_india https://t.co/x5sMXX8M0E

— Waheed Ur Rehman (@parawahid) August 25, 2020
"What can be more louder than these pictures that clearly speak of how the ruling party considers institutions as their own property & the way admin is facilitating these deplorable act us beyond shocking. University belongs to students not to parties, (sic)" Parra wrote.
Commenting upon the issue, Vice-Chancellor (VC) of the university Mehraj-u-Din told Free Press Kashmir that he has come to know about the same and was not aware of it before.
However, added that he has asked the concerned officials at CUK to submit an immediate report on why the members of BJP have set up their accommodation in the hostel.
One of the students while talking to FPK said that the way authorities have allowed the ruling party members to use their space is a "blatant violation" of rules.
"Our clothes have been taken out from the bags, books and other belongings torn and spread all over the rooms," the student said, adding that it is collective shame for the people of Kashmir when it comes to the "breaching of women privacy".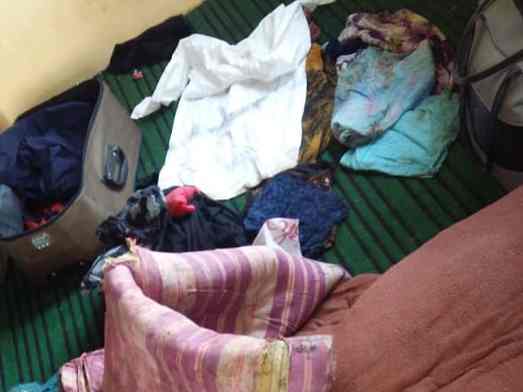 Another student said that as they have seen in the pictures and it is "shameful that clothes were being taken out of the bags and photographs of it are doing rounds on social media".
"What can we do at this point of time when going outside is not feasible. But still, we approached the media, called many officials," said the student wishing anonymity, "however, nothing has changed on the ground yet."
The spokesperson Nadiya added that students as a mark of protest have been preparing condemnation charts and uploading them on social media, 'just to make the authorities aware' but they see no accountability or action.
"Nobody is listening to us, what we shall do when there is nothing in our hands at this crucial time," she said.
Nadiya mentioned that she is being called by the students and their family members on a daily basis but she finds herself "helpless as she has not gotten any positive response from the university yet".
The students say that the administration and CUK is equally responsible for the "blunder".
They also questioned the silence of the officials in the administration in failing to protect the campus from such trespassing.
In this regard, when Free Press Kashmir contacted Deputy Commissioner Ganderbal, Shafqat Iqbal, he reluctantly admitted the claims, made by the students, saying "what is a big deal in it now."
However, when FPK tried to ask him about the reasons behind it, he simply dropped the phone.
Free Press Kashmir is now on Telegram. Click here to Join.