As the JK Admin is uprooting its "first line of defense" from Kashmir's forests, the anxiety of enforced homelessness is gripping nomads as evictions have threatened their centuries-old way of life.
Inside his dank dwelling, an old-fashioned mud-and-stone house, in district Anantnag's Kokernag forest area, a sun-tanned nomad is awaiting his worst nightmare to come true.
Haji Mumtaz Khatana, a 52-year-old Gujjar is becoming restless, as a torrent of eviction drives and growing cries over his tribe's demolished homes is repeatedly falling on his ears.
Khatana has been hearing rumours that Gujjar tribes are being uprooted from the forest land where they've lived for centuries.
His family and other tribal friends have already migrated to the district of Reasi in Jammu province along with their livestock.
But Haji is still in Kashmir, tracking the situation closely and wondering: Will he and others be able to come back to Kashmir in April next year?
"The situation in Kashmir is very tense and in my 50-years of experience, I've not seen such things happening," Haji said with a heavy heart.
Tribals are facing a very tough time, he sighed.
"We've been here for centuries, our forefathers had lived here but the future of our next generation is no longer safe here," he said.
"Where will we go? We've no place, no one to turn to. I don't know what'll be the situation in the coming spring and whether we'll be permitted to migrate here again."
Forests, he emphasized, are their homes and their occupation is dependent on them.
"If we leave forests, our identity and culture will be destroyed," emotive Haji said in a choked voice.
"We've not built concrete structures anywhere in the forest but small mud Qulas or Kothas. What damage will it cause to the forests? We live here only during the five months of summer season and then we migrate to different districts of Jammu province."
Forest Guards
But the move has already fuelled tensions in the woods housing these nomads glorified as "the first line of defense" by the state in the strife-stricken region.
These forests dwellers, Gujjar and Bakarwals have been living in the forests since centuries and guarding these forests "like their children".
They're largely a Muslim-dominated community and are categorized as Scheduled Tribes.
According to the 2011 census, Scheduled Tribe comprises more than 14 lakh of the total 1.25 crore population of Jammu and Kashmir.
"But the total population of tribal people as of today is more than 20 lakh," said Dr. Javaid Rahi, a tribal activist. "And 60 percent of their population is dependent on forests."
Scattered in Poonch, Rajouri, Doda and Reasi districts of Jammu, these nomadic people spend summers in high altitude pastures of Kashmir and Ladakh, and winters in different areas of Rajouri and Poonch. They return to the mountains of the valley with the arrival of spring. This cycle has been going on for centuries.
"Forests are our life," said Lateef Choudhary, a 60-year-old Gujjar who migrated to Mansar in Udhampur from Daksum in Kashmir this October.
"We exist because of forests. We cannot survive in cities and towns and are interdependent on each other because our occupation is cattle-rearing and the cattle feed on the forests and grasslands."
Tribals have been protecting forests from illegal smuggling of timber and medical plants since long now, Choudhary said. "We protect these resources, and how can we contribute towards the destruction of these lands when our survival is dependent on these forests?"
Eviction Drives
However, in "Naya Kashmir", the administration thinks otherwise.
Nomads have already been served eviction notices by the forest department, with a 7-day-long alarming deadline to clear the premises.
Kabir Ahmad Shah, a 27-year-old Gujjar living in the Batekote area of Pahalgam along with 150 other families, said the forest department officials recently visited their settlement to hand over the eviction notice.
"They gave a white paper to every family on which something was written in Urdu language," Shah said.
"Since I'm an illiterate person and can't read, I was informed by others that it says we've to vacate from these lands within seven days. They've to destroy our homes. We were all dumbstruck. The question is, where will we go? We've been living on these mountains since forever."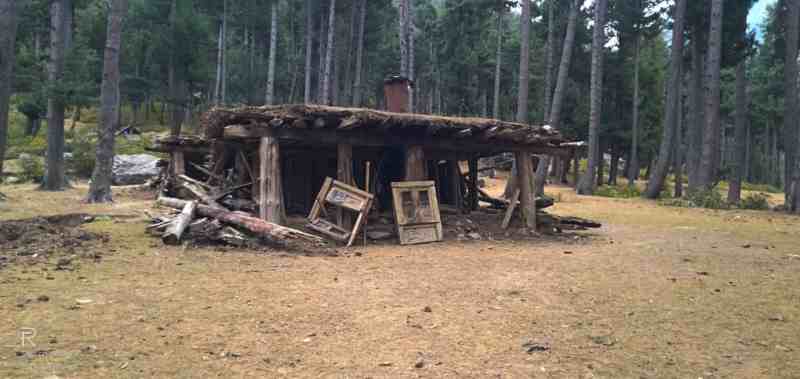 On November 13, a video circulated on social media showed Gujjar and Bakarwal Kothas being vandalized in the upper reaches of Pahalgam.
Choudhary Irshad, Gujjar activists and Secretary of the JK Gujjar Bakarwal Youth Welfare Conference Anantnag, said that Forest Department, Pahalgam Development Authority, Wildlife Department and Revenue Department retrieved 700 kanals of forest land on a war-footing.
"These departments have worked in coordination with each other to bulldoze Kothas of our Gujjar people," Irshad said. "Many people are still living there. They've not migrated yet."
Singh's '1947' Sparkplug
Earlier, after the Bharatiya Janata Party (BJP) came into power in Jammu and Kashmir in alliance with People's Democratic Party (PDP), these nomadic people faced eviction drives in Jammu province.
Many say, former BJP leader and forest minister Lal Singh set the stage for present-day offensive against the nomads with his notorious remark, "O Gujron, 1947 pulligaya hai tuse ge (O Gujjars! Have you forgotten 1947?) Why have you come here?"
"When Lal Singh was the forest minister, 300 Kothas of tribal people were raised to the ground in the forests of Samba, 500 Kothas in Kathua, 300 Kothas in Udhampur and this process is still going on," said Basharat Ali, who's leading the Gujjar Bakarwal Conference Jammu.
"Who's answerable? No one is raising voices for us. No one is there to protect and guard our culture. Are we children of a lesser God?" he asks.
Darkening Roshni
In October 2020, Jammu and Kashmir administration declared the State Land Act 2001, commonly known as the Roshni Act, null and void.
The Act was passed by the erstwhile state government headed by Dr. Farooq Abdullah in 2001 to grant the ownership of occupied land to the occupants with the aim of raising money for power projects upon payment of a sum to be determined by the Government of Jammu and Kashmir.
However, before the abrogation of Article 370, the transactions under the Roshni Act were stopped by the then governor Satya Pal Malik. The controversial governor termed the Act irrelevant and purposeless.
Following a Hindu right-wing campaign from Jammu, the J&K High Court on October 9, 2020 pronounced the Roshni Act "completely unconstitutional, contrary to law and unsustainable" and ordered a Central Bureau of Investigation (CBI) probe on the "land scam" enabled by the law.
Legal Take
Advocate Sheikh Shakeel Ahmad said the Roshni Act is not applicable on the forest lands, as a different act governs them.
"The state land and forest land are two different things," the advocate informed.
"Roshni Act was dealing with the state land not the forest land and whoever has illegally taken the possession of state land has to give it back as per the high court orders."
And since nomads use forest lands, they don't come under the Roshni Act, the advocate argued.
"What the government is doing is illegal because the high court has directed that it should be done in accordance with law but authorities are bulldozing Kothas of these people without listening to their pleas."
The Government should've a humane approach towards these poor people, the advocate opined.
"Nomads have the right to preserve their culture and unique identity. They've not raised permanent structures anywhere but they live in small mud houses just for a few months and then migrate to plains in winters."
Official Take
But the officials in Kashmir said they're retrieving the land from the "encroachers" by following the high court directions.
"It's not about the Roshni Act alone, but all encroached lands are to be retrieved from the occupants," K K Sidha, District Commissioner, Anantnag, said.
"Gujjar Kothas like other illegal structures are being cleared under the anti-encroachment drive. And nobody is shelter-less. These were all abandoned structures and the sole motive of enacting them was to grab land. Divisional bench is monitoring all the development authority and they've given direction to remove all the unauthorized structures on forest land. We're retrieving all the forest land or state land that has been under illegal occupation."
Till now, the administration has retrieved 700 kanals of land that were encroached. "We're submitting a report to the high court in this regard," Sidha said.
These eviction drives were majorly carried in Mamal and Lidroo areas of Pahalgam, Dr Mehraj-ud-Din, a forest officer, said.
"We've only retrieved cultivated land and no one was living there. We've not demolished any house there. Locals had used the forests land for cultivation. We've just retrieved it back, without touching any Gujjar family."
Forest Right Act  
Since the government says the Forest Right Act (FRA) is already applicable in Jammu and Kashmir, advocate Shakeel terms the demolition drives against nomads as illegal, if the same have not been notified by the government.
"Under the FRA, scheduled tribes of other states have been permitted and allowed to follow their culture and preserve their identity," the advocate said. "A similar approach should be followed in Jammu and Kashmir as well."
In 2006, FRA was implemented across India, granting tribal communities the right of settlement in forest areas, except in Jammu and Kashmir, where Article 370, the officials said, was restricting its implementation.
However, the law became applicable to JK when J&K Reorganisation Act, 2019 was passed after New Delhi scrapped the special status of erstwhile state in August 2019. The Act was one of the 106 central laws extended to J&K.
Under the Act, traditional forest dwellers are protected against forced displacements and have other rights as well, which include grazing rights, access to water resources and access to forest products, except timber.
"We know everything about the Forest Right Act," said KK Sidha, district magistrate Anantnag.
"People whose sustenance is associated with the forests are some other people, and not those whose settlements have been demolished. We know what we're doing and we're updating J&K High Court about it, too."
Under FRA, said Mushtaq Simnani, CEO Pahalgam Development Authority, nomads can use small land for cultivation without damaging the forest.
"We've not damaged any Kothas where people were living," Simnani said. "Only the empty Kuthas have been removed. And they were not owned by any Gujjar."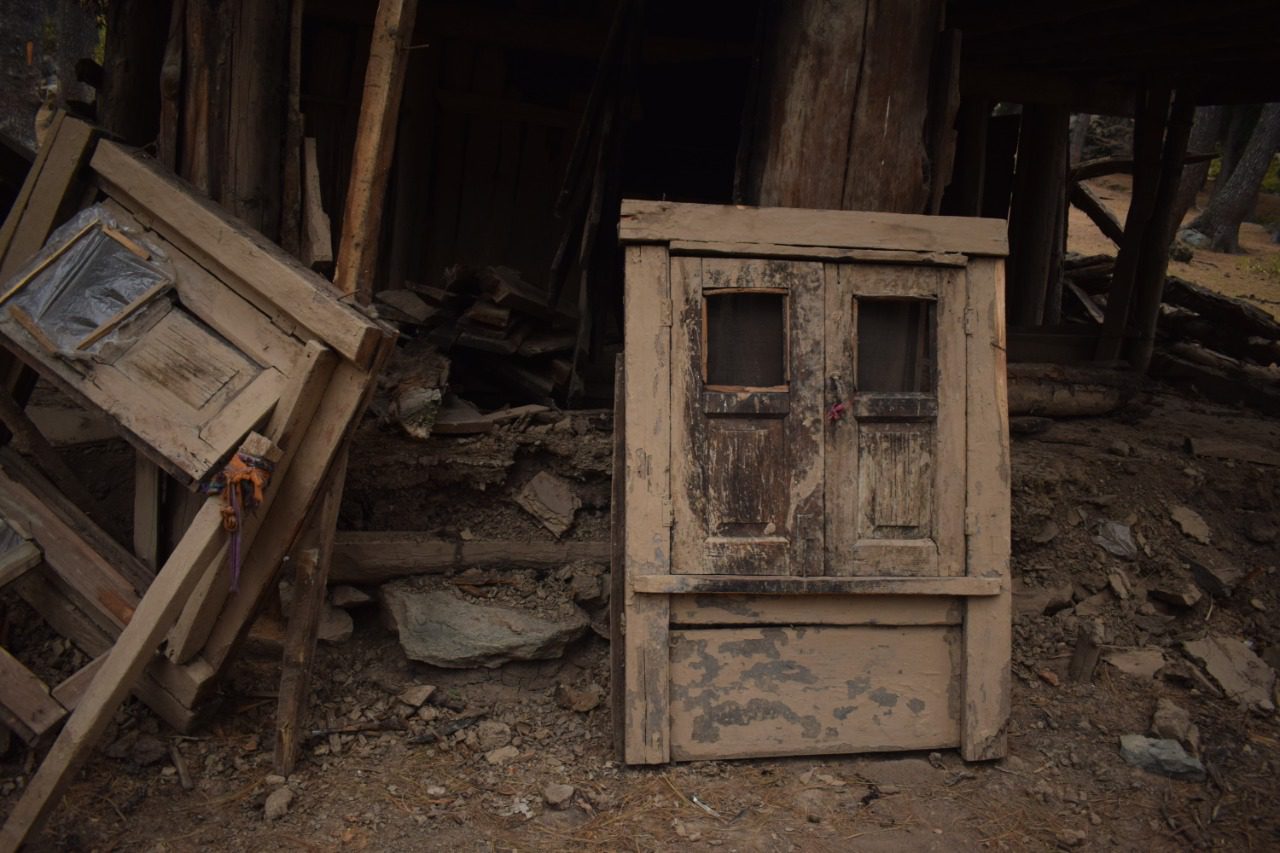 After demolition, even as the government is now asserting that FRA is being implemented in J&K, Gujjar activist Basharat Ali said that the administration should initiate a process in this regard.
"If houses of Gujjar and Bakarwals are demolished in this way, we've to break our silence, as we've no other option left than to hit the roads along with our cattle," Basharat said.
"When the government makes us homeless, where will we go? We've lived in the forests of JK for centuries. We cannot erode our identity and culture and live in cities."
Free Press Kashmir is now on Telegram. Click here to Join.
FPK Android App for 2G. Click here to Download.