The myths and the misconceptions that are being related to vaccines are often funny but mostly intense, resulting in the harassment of the health workers caught between the devil and the deep blue sea.
In gowns, gloves and guises, six vaccinators were getting ready to leave for a door-to-door vaccination drive. It was a seething summer morning and the place was New Type Primary Health Center (NTPHC), Gratbal, in Central Kashmir's Ganderbal district.
Among them was Rubina, a Female Multipurpose Health Worker (FMPHW). On seeing me, she blurted out, "Azz karan asi zaroor pathtraav" (We'll be surely stoned today). Everyone else in the room reacted likewise. But why?
"We used to put on our protective gear earlier but since there're increasing myths and superstitions around vaccination in general and the kind of hate against health workers in particular, we've stopped wearing Personal Protective Equipment (PPE) for the fear that people might attack us," Rubina replied. "They don't want to get vaccinated, hence hesitant to even open their doors on seeing us like that."
A male member of the group jokingly asked his coworkers, if they needed to put on the "helmets", in case of any physical assault by people anywhere.
Since the vaccination process began in the valley, health workers have been seen getting abused, harassed, shooed away and even physically assaulted by people. In some places like North Kashmir's Bandipora district, a team of vaccinators even faced stone pelting. This vaccination fear, however, is not exclusive to Kashmir. In some cases, people in some places outside the valley have reacted to the vaccines by preferring to jump into the waters than to take a jab.
But the vaccination phobia in Kashmir has gone too far, as was seen in recent videos surfacing all over the internet. People including young and old have been seen reluctant to get vaccinated when approached by the health workers. In one of the videos, an old man was heard saying that even if he's hanged till death, he'll prefer to accept the punishment but won't be getting vaccinated.
"Many simply avoid vaccination by hiding themselves from health workers, while others come up with excuses like, 'What if any untoward incident happens after you go back? We'll take the shot at the center only.' But they never show up in the center."
Much of this reluctance stems from some reported vaccine fatalities. According to the official records, 180 people have lost their lives after receiving the Covid vaccine across India. While the cause of the casualty is still a matter of investigation, the government is continuing to assure that the vaccine cannot kill. It has reported that side-effects have been observed in 20,000 people but 97 percent of them are mild to moderate.
As per the All-India Immunisation Committee studying the after-effects of the vaccine, acute coronary syndrome, cerebrovascular accident, sudden death and respiratory infections were the commonest side-effects of the vaccine.
But while the figures do not show any alarming picture, people in Kashmir still seem reluctant resulting in the harassment of the frontline workers performing their door-to-door vaccination duties.
Walking for around 5 kilometers over steep slopes in the upper reaches and visiting around 15 households a day in the searing temperature, people's phobic behaviour towards vaccination and health workers altogether was quite an experience to witness.
Among 15 households visited, not even a single person agreed to get vaccinated. Few of the households didn't open their doors. Many of them outrightly rejected vaccination while others came up with several reasons to avoid taking a jab.
After knocking one of the households, a young woman opened the door. Following the protocol, the vaccination team tried to make her understand the importance of vaccination. Seconds after, her mother-in-law came from inside and rolled her eyes and made a sharp face to signal her daughter-in-law to not get vaccinated.
"Asi kyah pata kyah zahar chuv anaan seeth ath injection-as manz", meaning: Who knows what poison do you carry in the name of vaccines.
In the murmuring voice, she walked back inside her house along with her daughter-in-law, slamming the door on our face.
The total population that comes under NTPHC Gratbal is 1045. In the first phase, for people above 45 years of age, the center achieved the target of 396 in its first dose, more than that of the actual target of 352.
In sub-center Tressa, the population stands at 1562. The target to be achieved among the population between 18 and 44 years of age was 637, but the achieved vaccination stands at less than 15 only. Ironically, 340 people who fall above 45 years of age have gotten vaccinated in the first phase which is much more than the actual target of 305.
Both educated and uneducated people of Kashmir, many believe, seem unwilling to get vaccinated because they trust more on rumours than the state bodies or agencies advocating for it.
"I've my own apprehensions," Abrar, a 21-year-old engineering student, said. "I won't take a vaccination jab for now because I doubt Indian-manufactured vaccines. I'll happily get vaccinated once any other vaccine is available, even if I've to pay for it later."
The difference in the age group and the reluctance of the people who're mostly educated that fall between the age group of 18 and 44 is quite apparent. In its first dose, the vaccination for people above 45 years of age was achieved more than the set target while people above 18 years of age seemed more reluctant. The reason behind the reluctance of the age group between 18 and 44 might be the overexposure of the internet leading to more information or misinformation spread all across the social media.
But the myths and the misconceptions that are being related to vaccines are often funny but mostly intense, resulting in the harassment of the health workers as they're caught in crisis.
Meanwhile, moving from one household to another, a man in his early 40s got furious on seeing a team of health workers entering his home: "Tuih kyah karni aamit yoar. Yi cha Modi sinz chaal" (What're you here for? It's Modi's conspiracy).
It's widely believed that the reluctance to get vaccinated by the common masses in the valley also comes from the insecurity and paranoia that state has instilled in the Kashmiri society for years. The lack of confidence among Kashmiris in regard to the state-sponsored events or programs is not new, hence, resulting in state's failure of conducting smooth vaccination drive at the cost of health workers' safety and security.
Debating this concern, social media these days has been divided into two sections of people. One side considers the forced vaccination and video filming as okay given the pandemic situation while another section says that government needs to do more to aware people regarding the vaccination. The latter group deems the video filming and forced approach as breach of privacy and unethical.
But beyond this virtual tug-of-war, health workers have become vulnerable to Covid exposure while implementing door-to-door vaccination programme. Their families back home are even more prone to get infection. They try their best to distance themselves as much as they can from children as well as older people when they come back home after a tedious day of work.
As an Integrated Child Development Services worker (ICDS), Asifa is one among the six health workers implementing door-to-door vaccination programme in Ganderbal today. Since she encounters a lot of people on her vaccination duty, she daily sanitises herself before touching her 3-year-old daughter and a 5-year-old son.
"We face a lot," Asifa rued. "People can be very rude sometimes. We're being called names. It's embarrassing to face harassment every day for doing my job."
If people don't want to get vaccinated, she said, there's no problem in it "but people are not supposed to call us scoundrels for no reason".
Despite facing all this, some of these health workers remain both underpaid as well as unpaid. Asifa being one of them said that she has not been paid her own hard-earned salary, let alone any "incentives" for vaccination duty.
"I'm facing harassment at the hands of people every other day while working without pay for months together," she said. "We're giving our best but hardly get appreciated anywhere. We've appealed to the government, but no one is there to listen to us."
The daily vaccination target equally makes their job demanding.
"The target varies and we're being asked to achieve that number anyhow," a vaccinator said.
"We've to show records to the higher authorities as we're told to complete a day's target no matter what.
Most of the people don't agree to take a jab and there's no question to force them for it. We still try to make people understand but they're not ready to listen. They've already made up their mind. Government has to understand that we can't force people to get vaccinated. But who'll understand? We're doing our duty and are answerable to our bosses on one hand, while being abused, insulted, and harassed by the people on the other. We're stuck in a difficult situation."
His colleague interrupted him saying that they might get thrashed because some people had clearly told them not to visit their areas for door-to-door vaccination anymore.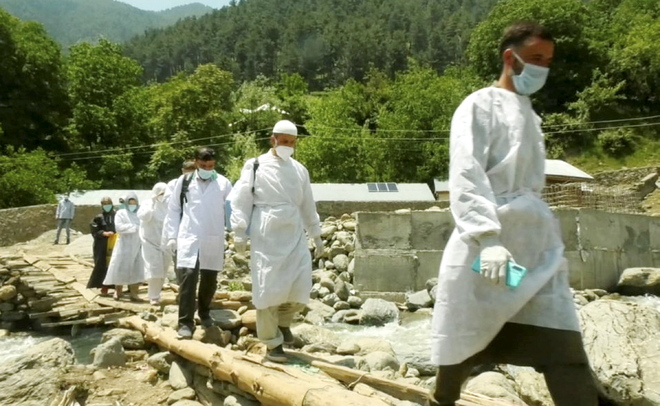 As these health workers face sticks and stones today, their center has to mandatorily submit a daily report of the vaccination to the district control room every day by 4 pm. There're many officials from various line departments—PHE, PDD, Forest, ICDS and et al—responsible for survey and mobilization.
While Rubina, Asifa and Afroza are the three female health workers in the six-member vaccination team, the other three male workers from PDD and Education Department, are there to aware and mobilise people for the vaccination process.
On most of the days, health workers come back with just a handful of the people getting vaccinated while on other days they return failing to vaccinate even a single person in the area.
"Our team once decided to vaccinate shopkeepers but the response was really pathetic," Rubina said. "One of the shopkeepers threw slurs and abuses at us, calling us 'hypocrites' and insulting us by saying that we've nothing to do except to roam around areas with male health workers for fun. He called others to shoo us away."
Another shopkeeper, she recounted, responded strangely, saying that he would shut his shop, if forced for the vaccination.
"It's as if we're begging and not doing our job," Rubina said. "We're treated disgracefully."
After facing this frenzy, "overburdened" Rubina comes back to the "understaffed center" to deal with other patients, including expecting mothers, who visit there on a daily basis with general health problems. She's also involved in Covid sampling (testing) as well as child immunization which makes kids and people even more vulnerable to Covid exposure.
"We tolerate everything as we've to feed our family," Afroza, an Asha worker and one of the three female vaccinators, said. "We've to survive. What do we eat, if we say we're being harassed by people and stay home doing nothing? I want to do my job with honesty, no matter what people think of me."
Just a few meters away in another household, the three kids were roaming around their lawn. As we entered, health workers asked for the family members. The kids replied that nobody was home and their mother had gone to visit a neighbour.
When told to call her, a young girl, barely 7, quickly went to call her mother for the vaccination.
As she came back, the little girl replied, "Mummy cha wanaan timan wan bi chas ni yeti. So cha dukaanas peyth gamich", implying, mother told me to tell you that she's not here as she has gone to some shop.
And everybody burst into laughter.
Free Press Kashmir is now on Telegram. Click here to Join.
FPK Android App for 2G. Click here to Download.