"I will pursue my case in the court because there's no other platform for Kashmiri women where I can avail justice."
In July 2021, a startling report surfaced about workplace harassment against a woman in Kashmir. Among other things, it said how the Internal Complaint Committee (ICC) for sexual harassment of women at workplace gave ex-Director Health, Sameer Matto a 'clean chit'.
The case was about the alleged sexual harassment charge levelled against Dr. Matto by a 52-year-old female consultant doctor working in the health department.
Matto was accused of multiple charges by the senior doctor, but ICC stated that nothing was proven against the former director.
Earlier, due to the non-availability of ICC in the health department, the female doctor filed multiple complaints in the Financial Commissioner Health and Medical Education Department and Lieutenant Governor's Office. This way, the case first came into the public notice.
Later when the incident got highlighted in the media, government ordered enquiry after constitution of ICC in the health department under Sexual Harassment of Women at Workplace (Prevention, Prohibition, and Redressal) Act 2013.
Eventually, the report said, the ICC could not prove the allegations against the director and gave him a clean chit.
Moreover, many collective statements were given by the health department in favour of the former director and also vouched for his character.
When Free Press Kashmir tried to understand what triggered these allegations, Dr. Matto refused to comment.
"No comments from me. Thanks," he replied in a WhatsAap chat.
In the enquiry report, Dr. Matto has stated that the allegations leveled by the female doctor are baseless and concocted malicious intentions.
However, the person who's at the receiving end of all the allegations has a different story to tell.
"After Sameer Matto joined as Director Health on October 2019, he was very cordial with me," the 52-year-old female doctor told FPK.
"He assigned me extra work and told me to report to his office at 10 in the morning and ordered me to supervise all the projects that were going on. It was not my job but I took it in a very casual way and agreed to follow the routine."
Things were going on smoothly until December 13, 2019 when she received a call from an unknown number at around 8:30 PM.
"I was serving dinner to my family when I received the call from an unknown number. When I picked up the call I heard very shaky voice. Suddenly in a very slurred voice he called my name and said: 'Mai Sameer hoon' (I am Sameer). I understood he was drunk and I became nervous. He was repeatedly calling my name and asking me to talk to him," she recollected the scene.
"Mujhse baat ku nahe karti hoo. Muj se baat karo… Woa muje dawayi ka list chahiye… muje list dedo…. muje dawayi ku nahe deti… mujse baat kar (Why don't you talk to me? Talk to me! I need a list of medicines. Give me the list. Why don't you give me the medicine? Talk to me). These were his words," the female doctor lamented.
She dropped the call immediately and tried to catch her breath. "My face turned pale and I switched off my phone," she said.
But it was not the end, but start of her ordeals, she added: "Next day when I reached office, I thought he would be ashamed of his act but actually he had a different face. We had a meeting that day and after the meeting was over, I received an order which stated that I have been detached from the program and replaced by a dental surgeon. I had started this program in Jammu and Kashmir and had worked very hard on this assignment. But I kept my cool and handed over all the charge to the doctor."
After a week, the female doctor said, she received a call from Dr. Matto's friend and colleague, Dr. Bashir Chalkoo informing her to return the government vehicle along with the driver.
"The vehicle was not provided to me by the director but I was availing it from the government for conducting official work," she said. "I again did not react to it and handed over the vehicle the very next day. Their intention behind these things was only to force me to plead in front of them and request them not to take these charges from me."
Days later, as she was supposed to visit Sopore for conducting TB program, the woman doctor asked the permission from the director. She was allowed to go.
"But when I crossed Pattan, I received a call from his another colleague who told me, 'Sir wants you to come back as he needs some document.' I told him that I have kept the document available with another colleague, he can take that from her. But he did not listen and said, 'Sir is saying turn the vehicle back and hand over the document to him personally.' I dropped the call and travelled to Sopore," she said.
Next day, the woman doctor had a heated argument with the director and his colleagues over the matter.
"He used to call me in his room more than 10 times in a day and used to tell me, 'Can't you sit with me for 5 minutes?' I felt so humiliated and could not take it anymore and finally decided to take action against him."
In the meantime, the doctor got selected in World Health Organisation (WHO) program and asked the director to relieve her from the post.
"I was drawing handsome salary at that post but due to the unfair treatment and repeated acts of harassment and humiliation I was ready to leave that post and work with the WHO, where the salary was comparably less," she said.
"When he did not relieve me from the post, I decided to write to the then chief secretary in April 2020. I did not receive any answer from him as well. I dropped message on his Whatsaap and send a reminder email but nothing happened."
On the contrary, she said, she received an order from the government, informing her that she was removed from the post of epidemiologist.
Another month passed and she was transferred to SDH Kangan by the director.
"I joined the Kangan without reacting to it," she said. "But when I couldn't take it anymore, I filed a complaint in Lieutenant Governor's Office and after few days I received a call from there asking for the authenticity of the complaint. The speaker assured of strict action. On the order of government, ICC was formed and the director kept my transfer order on hold and soon I joined back."
In 2013, Sexual Harassment of Women at Workplace (Prevention, Prohibition, and Redressal) Act also known as POSH Act was enacted to provide safe, secure, and enabling environment, free from sexual harassment to every women. It provides the protection to women at their workplace from any form of sexual harassment and redressal of any complaints filed in the committee.
Under the POSH Act, it is mandatory that every office, government or private should have ICC- a body envisaged to receive complaints on sexual harassment at the workplaces from an aggrieved women, as well as to enquire into and make recommendations to the concerned authority on the action required pursuant to its inquiry of such complaint made.
However, absence of ICC in most of the government offices in Jammu and Kashmir has made women more vulnerable to the harassment at workplaces.
To fight for ICC in government offices, Badrul Duja, an activist and practicing lawyer from Srinagar, filed an RTI in 2019 in General Administrative Department demanding the number of sexual harassment committee in government offices.
"The response came and it revealed that sexual harassment committees were constituted in only 18 government departments," Badrul said. "Later I filed another two RTI which impacted powerfully. This year government has constituted committees in at least 70 institutions but it is not enough. I want the committee should be constituted in every offices both government as well as private."
The RTI filed by Badrul revealed that there are 268 First Enquiry Report (FIR) under sexual harassment registered with police in Jammu and Kashmir since 2010.
The district-wise data reveals that district Srinagar tops the list with 45 FIR under sexual harassment cases registered for the last ten years.
"Sexual harassment at workplace is rising at work places across Kashmir," Badrul says. "Women employees face harassment at their office and the only way to prevent it is through implementation of Sexual Harassment Act. But unfortunately, government offices in Kashmir are not sensitive towards constituting sexual harassment committees at their level. This is the situation in government sector, one can only imagine the ordeal of women working in private one."
Facing the same apathy, the lady doctor said that despite being harassed in a series of events, people vouched for the ex-director's character.
"People say that I have filed complaint because I have been transferred to Kangan but the fact is that I was transferred in the month of August 2020 whereas I filed the complaint in April 2020. People in our department have said in a Whatsaap chat they will support their director no matter what the situation is. What does this indicate?"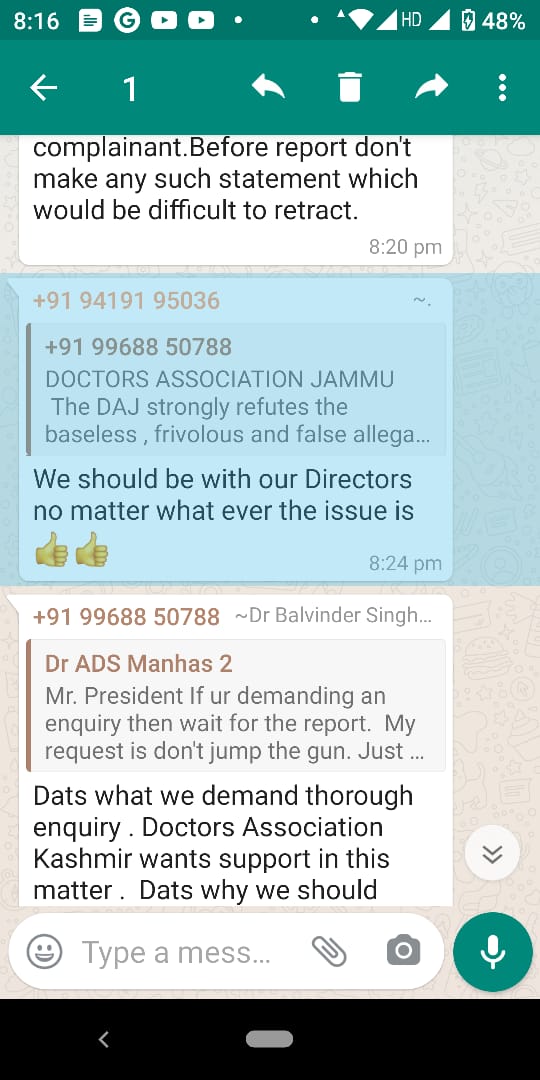 The doctor with 22 years of service to the health department asked — why such case was not filed against her other directors and colleagues she worked with all these years.
"In his defence, he [Dr. Matto] has said in the report that I held many charges in the department, and that's why he took few from me, but this is not the case. In directorate office everyone holds 2-3 charges," she said.
The female doctor believes that the ICC has not investigated the case fairly.
"I will pursue my case in the court because there's no other platform for Kashmiri women where I can avail justice," she said.
"I have faced so much humiliation not in the society but in my family as well. I cannot face my children. I am going through extreme mental stress."
Free Press Kashmir is now on Telegram. Click here to Join.
FPK Android App for 2G. Click here to Download.