Kashmiri multimedia-journalist Ahmer Khan, and team, has been awarded the prestigious 24th Human Rights Press Awards (2020) in short video category for a short-film shot during post-August 5 lockdown. 
The short-film titled Defending Kashmir: Anchar's last stand against India's control, won under the 'Short Video' category, was published by The Guardian.
The team that worked on the film included Siddharth Bokolia, Sami Ullah, Rebecca Ratcliffe and Claudine Spera.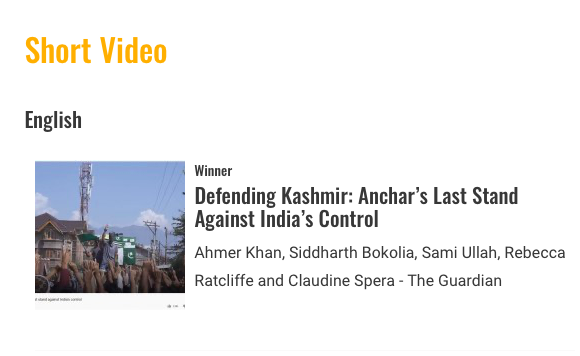 The Human Rights Press Awards recognise top rights-related reporting from around Asia, with the goal of increasing respect for people's basic rights and focusing attention on threats to those freedoms.
Khan has also been awarded the Lorenzo Natali Prize 2018 for his story 'A school under metro bridge teaches Delhi children' in 2018.
Khan is an independent multimedia journalist based in Kashmir, focusing on South Asia.
He has done photo and video commissions for The New York Times, The Guardian, TIME, SHOWTIME, Al-Jazeera, Radio France International, Amnesty International, The Christian Science Monitor, Vice News, and other publications.
Free Press Kashmir is now on Telegram. Click here to Join. 
Like this story? Producing quality journalism costs. Make a Donation & help keep our work going.