'We are not even allowed to renovate'
'They will auction our property and throw us out'
'Have been told to not take bookings beyond December 10'
Srinagar: An unprecedented chaos has gripped Gulmarg as Hoteliers say that the Jammu and Kashmir Administration is set to 'take possession of their properties' and is notifying hoteliers as "illegal occupants".
Land lease of the hotels in Gulmarg has expired in 2018, and since then the government has failed to extend it, the hoteliers say.
According to the hoteliers, the agreement between the government and Gulmarg hotel owners on land lease was made in 1978. The lease was granted for 40 years and later it was to be extended.
As per to government officials, lease can be extended up to 40 years and further it is extendable up to 10 years and 50 years respectively after inspecting all the parameters of agreement.
However, a majority of the hotels are now running without lease, even though the hoteliers have approached the government for extending their lease many times, the government has failed to extend it.
"After taking huge loans from banks we have set up hotels in Gulmarg and it took 3 decades to build the structure due to the unprecedented situation in Kashmir. After all the hard work, we could not flourish all these years. We have not even earned the invested money back yet. Every year since the 90s we have seen lockdowns. We have a huge loan on our heads," said one of the hoteliers in Gulmarg on the condition of anonymity.
He said that the government has told hoteliers not to take bookings beyond December 10.
"Hotels are not even allowed to do renovation work. Government has even started demolishing some structures here. Thousands of people are associated with tourism in Gulmarg, where will they go? On one side the government is claiming to provide jobs to youth and on the other side thousands of families will suffer due to forced unemployment," he added.
General Secretary JK Hotels, Tariq Ahmad Ganie told Free Press Kashmir that they are in utter shock after the government told them they are "illegal occupants" of the hotels.
"For the last two years the government did not extend the lease of Gulmarg hotels after we repeatedly kept approaching them. We are now realising what the government was planning to do by not extending the lease. They are taking the possession of our hotels in Gulmarg and they will keep us as caretakers of our own property and later they will auction our property and throw us out," he added.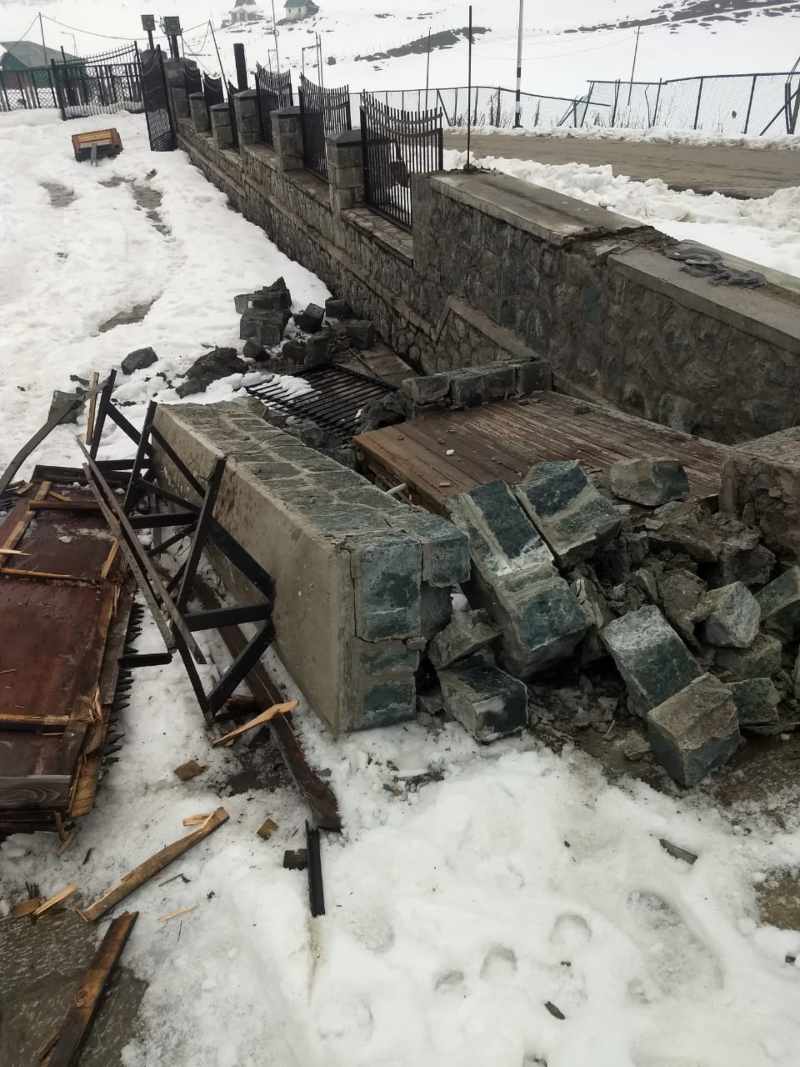 He said that today they were invited to a meeting with district administration Baramulla but the hoteliers cancelled it.
"We will hold a meeting today on it with hoteliers and then decide collectively the course of action on it," he added.
CEO, Gulmarg Development Authority, Inam Siddiqui said, "we are just following the court orders. District Administration Baramulla is the authority to speak on the issues. Baramulla administration has sent a team to take action and we are just a party to it."
Deputy Commissioner Baramulla, Dr Ghulam Nabi Itoo after hearing the question from this reporter said, "I am in a meeting and cannot answer to your question."
Free Press Kashmir is now on Telegram. Click here to Join.
FPK Android App for 2G. Click here to Download.