Srinagar: Post August 5, 2019, Srinagar roads and bridges have been dotted with military bunkers many of which have been built near schools and hospitals which in turn have made these places vulnerable to the attacks. In the past, grenades have been thrown at many bunkers, and places where there is deployment of forces.
On August 5 2019, when the Indian Parliament scrapped article 370 which granted semi-autonomous status to the erstwhile state of Jammu and Kashmir, there was an additional deployment of thousands of troopers in Jammu and Kashmir.
Along with the deployment of more troopers, bunkers have been set at many new places in Srinagar including outside Shri Maharaja Hari Singh (SMHS) Hospital, Karanagar main chowk, Shri Pratab (SP) school and college, Jahangir chowk bus stand, outside the wall of old secretariat, Jahangir chowk – Rambagh flyover, Chanpora JK Bank, and Hyderpora chowk.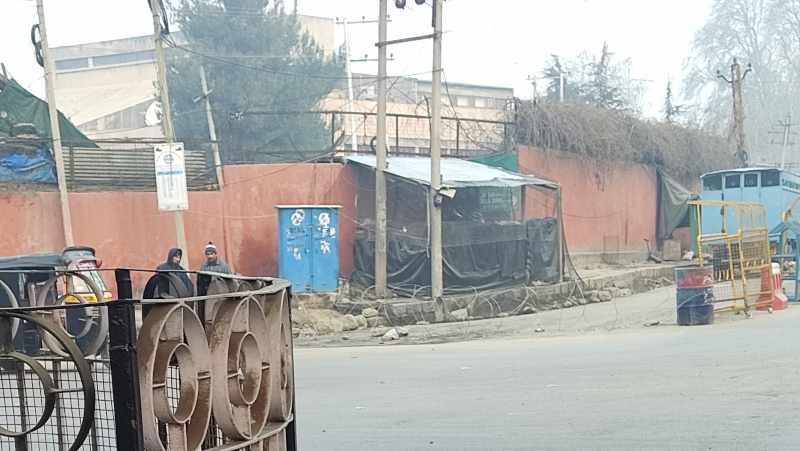 Earlier in the 90s, the bunkers used to be spotted on every road of Srinagar which were later removed in 2000s by the successive government as it was believed that militancy in Kashmir had declined over the time.
However, new bunkers have come up making people recall memories of the 90s.
At the busiest hub of Jahangir chowk, half of the area which was the main bus stand has been occupied by a military bunker bordered by barricades and concertina wires.
The bus stand has been pushed to the main road. This road stretch is considered busy as buses pick and drop the passengers at the stretch.
Drivers who earlier (per August 05) used to board passengers around 8 in the evening are now leaving early because of 'fear'.
"We don't want to stay here when it is dark because this place looks very hostile after 5 in the evening. We used to take passengers even after 7 during winters but after the bunker came up here we leave before 6 in the evening," said one of the drivers.
Around a kilometre away from Jahangir chowk, another bunker has come up outside the front wall of the emergency gate of SMHS hospital. It has occupied one side of the two way road.
The CRPF personnel block one way of the road after 6 in the evening despite the fact that this is a round-the-clock emergency road.
"When it turns dark in the evening, the forces place the barricades on one side of the two-way road blocking one side completely. The ambulances that are carrying patients to SKIMS or any other hospital from SMHS have to move on the wrong side to cross this stretch," said a pharmacy owner opperating in the area.
Another bunker has come up just outside the lane which leads to Sri Pratab College and School situated at MA Road Lalchowk.
Building bunkers outside the educational institution makes students vulnerable to the attacks.
Mohammad Hyder, a student of SP School said that every time he enters the lane, armed forces keep a close watch on him and the movement of students.
"We walk in groups because we feel unsafe while walking through this lane. Bunkers near educational institutions make us vulnerable. These bunkers are prone to attacks. Aren't students exposed to any untoward incident because the situation is not conducive in Kashmir?" he asked.
In 2019, many schools and colleges were turned into bunkers for the military as many CRPF companies were stationed in these institutions.
On being asked about these bunkers, Public Relation Officer, CRPF, Pankaj Singh told Free Press Kashmir, "security matters can't be discussed on phone. I don't know you, we have never met. How can I pass things causally to you? There are accredited journalists who come to visit me and we are sure about things then we share information. I cannot tell you anything on the phone."
Free Press Kashmir is now on Telegram. Click here to Join. 
FPK Android App for 2G. Click here to Download.